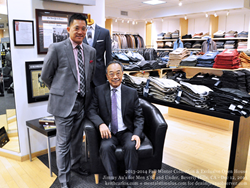 (PRWEB) December 19, 2016
Olympic Champion, cancer survivor, television broadcaster, motivational speaker, author, Scott Hamilton supports "Jimmy Au's For Men 5'8" and Under Clothing Store" with their grand opening at their new location in Sherman Oaks, California, http://www.jimmyaus.com/.
"I first heard about Jimmy Au's when my costume designer was brought in to help find clothes for some TV work I was doing. For years and years I had been looking unsuccessfully for a place to buy clothes in my size. I decided to check Jimmy Au's out for myself. When I walked in, I almost hyperventilated. The first thing I realized was that I could buy EVERYTHING in this store! Jimmy Au's is perfect for a man my size finally being able to dress the way I wanted to," states Hamilton.
Now located in Sherman Oaks, Jimmy Au's For Men 5'8" and Under is a place where one can find a flattering and height-enhancing collection of tailored and casual menswear that's designed to fit proportionally and comfortably in a relaxed and inviting shopping environment with friendly and professional service.The move from Beverly Hills to Sherman Oaks has given Jimmy Au's a bigger space to work with, and a wider selection of clothes in store for customers to shop for.
Jimmy Au is a pioneer and leader in the design and development of clothes for short and small men. Here one will find the world's first menswear collection where clothes for short men are not an afterthought of the mainstream market, but the purpose of its design and development.
"Jimmy is a master salesman. I will walk in the store and he will instantly know if I have gained or lost weight and what I need based on my last visit. And Jimmy's staff is always there ready to help me in any way. If I am in town for an event, they will make sure I have whatever I need altered and ready to wear by the time I need it," says Hamilton.
Jimmy Au specializes in designing clothes to look, fit and feel more comfortable, fashionable and proportional by using a complimentary combination of high quality fabrics, flattering patterns, and relevant, proportional style details. Jimmy Au's has been an entertainment industry secret since 1982. Because of the height enhancing qualities of the Jimmy Au Collection, it is the preferred wardrobe choice of the television and film industry when it comes to fitting short actors and celebrities.
Hamilton states, "There is no other store like it anywhere in the world, and I am so grateful to Jimmy Au for creating a solution to a serious problem that affects so many men of "average height" just like me."