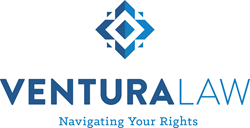 By changing our name to Ventura Law, we hope to continue to inspire these values and honor [Americo Ventura's] legacy as we grow into the future.
Danbury, CT (PRWEB) December 05, 2016
The Law Firm of Ventura, Ribeiro and Smith has today announced it is changing its name to Ventura Law, effective immediately. Although the firm will continue to operate with the same attorneys and staff, its new name represents an important milestone as it sets the course for its future.
"We've seen many changes to the field of law and within our firm over the years," said Augie Ribeiro, Chief Executive Officer of Ventura Law. "One thing which has always remained constant, however, is our belief that every client deserves to be treated with compassion and integrity, and to have their voice heard in the legal system. This was the guiding principle of our founding partner, Americo Ventura, who still practices by these values today, almost sixty years after first opening his doors. By changing our name to Ventura Law, we hope to continue to inspire these values and honor his legacy as we grow into the future."
The firm now known as Ventura Law began in 1957 when Americo Ventura began practicing law in his hometown of Danbury, Connecticut. The son of Portuguese immigrants, Ventura believed in providing honest and compassionate service, and in giving back to the community as much as possible. Practicing law in this way, Ventura became a vital part of the community, and a trusted advisor to thousands of Portuguese and Spanish-speaking clients.
Under Attorney Ventura's guidance, the firm has grown in both size and diversity. Today the firm consists of 15 attorneys and operates four offices in Connecticut and New York. Ventura Law's practice is primarily focused on representing clients in personal injury litigation, real estate transactions, and estate planning matters. The firm has also been involved in a number of notable national cases, including representing victims of the BP Oil Spill disaster; representing victims of the World Trade Center attacks; and representing the families of those killed as a result of the General Motors ignition switch defects. The firm also represents clients who have suffered injuries as a result of dangerous drugs and medical devices.
The firm's transition to the new name is accompanied by the launch of a newly designed website which can be found at venturalaw.com. More information about the firm's history, and its new name, is also available there.
About Ventura Law
Ventura Law is dedicated to providing clients with a strong voice in the legal process since 1957. With offices in Connecticut and New York, we are a full-service practice, serving clients who have been injured in cases ranging from motor vehicle accidents, workplace accidents, premises liability, or pharmaceutical/medical device claims. To learn more about Ventura Law, please visit us online at http://www.venturalaw.com.