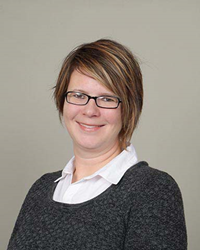 We're excited that Christine is now part of the SCS team.
DES MOINES, IA (PRWEB) December 05, 2016
SCS Engineers is pleased to announce that Professional Engineer Christine L. Collier has joined SCS on December 1 as a Senior Project Professional. Ms. Collier will head SCS's newest office location in Des Moines, Iowa.
Ms. Collier is an 18-year veteran of the Iowa solid waste industry. She has BS and MS degrees from Iowa State University in Civil Engineering with an Environmental emphasis and is a licensed Iowa PE. She is proficient in solid waste regulations and compliance and keenly focused on working with clients to develop solutions to meet their needs.
Before joining SCS Engineers, Ms. Collier worked for an engineering consulting firm in Des Moines, where she acquired progressively greater responsibilities, beginning as an intern in 1998 and working her way up to project and client manager. She was responsible for management of multiple client projects, planning and developing future projects, budget control and financial plans, and interacting with regulators. She was also responsible for business development with municipal and industrial solid waste facilities and other types of clients. She places a strong emphasis on customer satisfaction.
"Christine is highly qualified and experienced in solid waste and environmental matters," said SCS Vice President Mike Miller. "Her impressive experience with and dedication to client relations and customer satisfaction is a perfect complement to SCS's strong focus on developing and maintaining excellent client relationships."
Ms. Collier is also an Iowa Certified Landfill Operator; a Manager of Landfill Operations Instructor for the Solid Waste Association of North America (SWANA); and SWANA-Certified as an Inspector of Landfill Operations, Manager of Transfer Station Operations, and Manager of Construction and Demolition Materials. She is also a member and past Board member and committee co-chair of the SWANA/Iowa Society of Solid Waste Operations.
About SCS Engineers
SCS Engineers' environmental solutions are a direct result of our experience and dedication to solid waste management and other industries responsible for safeguarding the environment. For more information about SCS, please visit our website at http://www.scsengineers.com or your favorite social media channel.