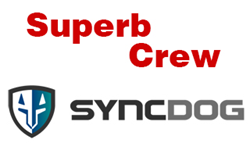 As organizations continue to integrate IoT and BYOD into their mobile collaboration strategies, they must be mindful of the serious cyber-risk mobility can present to enterprise data - SyncDog President and CEO Jonas Gyllensvaan
Reston, VA (PRWEB) December 05, 2016
SyncDog, Inc., the leading ISV for mobile application containerization, today announced it has been featured in SuperbCrew magazine, a leading online tech news platform connecting technology innovators with news, experience, and knowledge breaking in the tech world. This interview, now featured on SuperbCrew.com, explores the state of enterprise mobility security today, and how the SyncDog SentinelSecure™ product line protects enterprise data from mobile cyber-threats targeting BYOD environments.
The SentinelSecure™ containerized application workspace provides a secure data platform for enterprise mobile collaboration, encrypting and transporting data between the enterprise and secure, "sandboxed" applications running on employees' mobile devices. The workspace protects client enterprise networks with a secure, partitioned FIPS 140-2 certified* container on both iOS and Android devices, and secures data both at rest and in transit using AES 256-bit encryption.
"As organizations continue to integrate IoT and BYOD into their mobile collaboration strategies, they must be mindful of the serious cyber-risk mobility can present to enterprise data," said SyncDog President and CEO Jonas Gyllensvaan. "The SyncDog SentinelSecure™ product line has been designed to protect this data with an easily-deployed secure container that thoroughly secures enterprise data."
To read the full interview, visit SuperbCrew here.
New Release of SentinelSecure™ Version 2.5
SyncDog has recently released SentinelSecure™ version 2.5, including industry-specific configurations for Healthcare and U.S. Government Department of Defense workflows. Version 2.5 adds significant security enhancements, increased application offerings in the secure mobile workspace, along with FIPS 140-2 certification* from NIST (National Institute of Standards and Technology). The SentinelSecure™ container has been designed to address four main workflows for users accessing enterprise file stores and applications: Secure Communications, File Management, Secure Internet/Intranet Access, and Secure Location-based Services.
See the full list of available applications within the SentinelSecure™ container click here.
SyncDog's Partner Ecosystem
SyncDog has been actively building its partner system over the last year, securing certified APIs for the option to integrate SentinelSecure™ with a broad network of EMM providers. This flexibility allows customers the choice to deploy SentinelSecure™ as a standalone container or as a complementary layer of security to existing EMM investments, including:

MobileIron
Snow Software
Notify Technology
SentinelSecure™ also has field integration with most name-brand EMM and MDM solutions.
About Superb Crew Magazine
SuperbCrew.com is a tech news website covering innovative technology and internet companies – sharing news, experience, and knowledge from the tech world. The SuperbCrew community connects innovative companies and journalists.
About SyncDog, Inc.
SyncDog is the leading independent software vendor (ISV) for building secure infrastructure frameworks that protect enterprise networks from cyber breach from mobile computing sources. The SentinelSecure™ product line for application containerization and IoT (Internet of Things) module monitoring provides the industry's most proactive approach to securing enterprise mobility computing.
The SentinelSecure™ data security solution delivers military-grade (FIPS 140-2 certified,* AES 256-bit) secure mobile device partitions or "containers" that can secure emails/contacts, calendar items, IM apps, Internet browsers, mobile file stores and other business apps provisioned on personal devices to be used in a BYOD or COPE (corporate owned personally enabled) setting.
*NIST Certification #2687 | Link