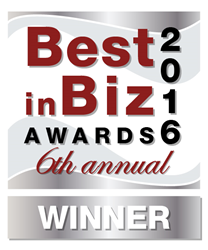 Irvine, CA (PRWEB) December 02, 2016
Comtrend, a leading global provider of advanced networking solutions, has been named a silver winner for their WAP-EN series of Wireless Access Points in the prestigious Best in Biz Awards 2016. Best in Biz Awards is the only independent business awards program judged by members of the press and industry analysts.
Comtrend's award-winning WAP-EN series of Business Class Wireless Access Points are the first of its kind to feature TR-069 remote management. This allows for a seamless integration into Service Provider's existing management systems and avoids the hassle of learning a new system in order to deploy managed Access Points. The WAP-EN series boasts comprehensive networking features for small to-mid size business (SMB) applications, while also being an affordable way to improve Internet connectivity in large homes. The series boasts the latest in networking features to be among the most competitive for SMB environments, as well as offers next generation, dual-band 802.11ac wireless connectivity to improve wireless connectivity in large homes that experience a lack in coverage.
Product Manager at Comtrend North America, Richard Castreje, comments, "We are proud to have received this acknowledgment for Best Product Line of the Year from Best in Biz. Our new WAP-EN series offers the unique feature of supporting TR-069, allowing Service Providers to gain better remote management of the products they deploy and remotely address the most common support calls."
The sixth annual program in North America garnered more than 600 entries, from an impressive array of public and private companies of all sizes and from a variety of industries and geographic regions in the U.S. and Canada. Best in Biz Awards 2016 honors were presented in 60 categories, including Company of the Year, Fastest-Growing Company of the Year, Most Innovative Company of the Year, Best Place to Work, Technology Department of the Year, Executive of the Year, Most Innovative Product of the Year, Best New Product of the Year, App of the Year, PR Campaign of the Year and Website of the Year.
"This year's Best in Biz Awards entrants proved to be innovative in all sorts of ways, from their products to their company cultures to the entries themselves," said Annlee Ellingson, L.A. Biz, returning to judge her third Best in Biz Awards competition. "It's always a pleasure to catch up on what businesses around the country and in a wide range of fields are up to."
Winners of Best in Biz Awards 2016 were determined based on scoring from an independent panel of 50 judges from widely known newspapers, business, consumer and technology publications, TV outlets, and analyst firms. In addition to numerous judges returning from the 2011-2015 judging panels, this year's panel included several worthy additions to the high-profile group. The panel included Accounting Today, AdWeek, Associated Press, Atlanta Tribune, Business News Daily, CNET, Computerworld, Consumer Affairs, Entrepreneur, eWeek Channel Insider, Forbes, Healthcare Innovation News, Inc., Information Week, InfoWorld, Investment Advisor Magazine, MediaPost, Multifamily Executive, Network World, Portland Business Journal, Security Products Magazine, South Florida Business Journal, Wall Street Journal, Wired, WLRN and ZDNet.
About Comtrend
Comtrend, with more than 25 years of experience, has become one of the leading global providers of advanced networking solutions. Comtrend designs, manufactures, and markets a wide range of networking and surveillance equipment and software. Service providers, businesses, and consumers look to Comtrend for broadband gateways, as well as the latest WiFi, surveillance, Powerline, and coax technologies. Comtrend also remains committed to industry standards, like G.hn for home networking, as well as interoperability and market-leading performance. People in businesses and homes around the world trust Comtrend to make their technology easier and more dependable. For more information, including Comtrend's full lineup of home networking solutions, please visit http://www.comtrend.com.
About Best in Biz Awards
Now in its sixth year, Best in Biz Awards recognizes companies for their business success as judged by established members of the press and industry analysts. Best in Biz Awards honors are currently conferred in two separate programs: North America and International, and in more than 60 categories, including company, team, executive, product and PR and media. Entries for Best in Biz Awards 2017 International are currently being accepted until the final deadline on April 28, 2017. For more information, visit: http://www.bestinbizawards.com.