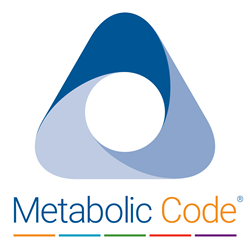 BOCA RATON, FL (PRWEB) December 05, 2016
Metabolic Code is slated to introduce its Metabolic Code Platform at the 24th Annual World Congress of Anti-Aging Medicine in Las Vegas, December 9 through December 11, 2016. Located at booth #5021 in the Venetian Palazzo Resort, Metabolic Code will present the new cutting-edge platform designed to help practitioners improve health care outcomes and empower patients to advance the quality of their health.
A non-CME workshop will be sponsored by Metabolic Code on Saturday, December 10 in the Veronese Ballroom of the Venetian Palazzo Resort at 6pm. Keynote speakers, James LaValle, R.Ph, CCN, Founder, and Chairman of Metabolic Code, and Bassel Haidar, President of Metabolic Code, will host the evening workshop, Metabolic Code: The Success Triad. A Practice Solution that Delivers Better Outcomes, Improves Efficiency, and Increases Revenues.
Metabolic Code has amassed an impressive array of partners to enable it to provide one-click lab ordering and posting , best in class medical grade supplements that can be delivered on a recurrent basis to patients, and access to clinical expertise through highly respected educational institution affiliations.
National Clinical Laboratories
Metabolic Code selected national clinical laboratories True Health Diagnostics, Quest Diagnostics and Physicians Lab to analyze data from patient lab samples in conjunction with patient lifestyle questionnaires and personal biometric information to help determine an individual's greatest areas of metabolic risk. Practitioners then use that information to develop the most beneficial and engaging health plan for the patient.
Leading Supplement Manufacturers
Metabolic Code joined forces with leading supplement manufacturers which meet or exceed all safety and quality standards. Ortho Molecular Products, Designs for Health and NuMedica have included their products in Metabolic Code's supplement formulary and product offerings to bolster Metabolic Code's mission of supporting health care practitioners' ability to deliver better patient health outcomes.
Educational Institutions
Jim LaValle, Founder and Chairman of Metabolic Code and Andy Heyman, MD and Chief Medical Officer of Metabolic Code, are both sought-after thought leaders in Integrative Medicine and speakers at the American Academy of Anti-Aging Medicine (A4M), where they teach a variety of continuing medical education courses (CME) with a focus on a systems biology approach to medicine, known as "the Triads". Additionally, The George Washington University (GWU) has adopted the Metabolic Code as its platform of choice for all students enrolled in the Master's Program in Integrative Medicine. This partnership will usher in a new era of innovation in health care, delivering better clinical outcomes while improving practitioner efficiency.
About Metabolic Code
Metabolic Code evaluates where a patient's chemistry is today, and predicts the patient's potential future health risks. Health care providers receive a Metabolic Code Health Assessment and Vitality Report which highlights their patients' uncovered metabolic imbalances and disruptors before they turn into chronic conditions and accelerate aging, and couples that information with a personalized plan to optimize each patient's health and vitality. Metabolic Code empowers health care providers to Deliver Better Health Outcomes, Work Smart, and Make More. More information can be found at http://www.metaboliccode.com