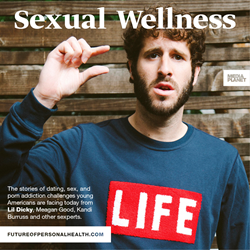 More than half of American teens report losing their virginity before they graduate from high school
New York, NY (PRWEB) December 02, 2016
More than half of American teens report losing their virginity before they graduate from high school and while 84 percent of parents report speaking with their child about sex related topics, less than 60 percent spoke about deeper themes like birth control, pornography and sexually transmitted diseases.
Mediaplanet is proud to announce the launch of its second edition of the "Sexual Wellness" campaign, aiming to address the problems, challenges and situations young Americans are facing when it comes to sex. We'll provide up-to-date information, insight and solutions from the leaders in the industry, encouraging readers to take responsibility and action on their own sexual health.
When it comes to birth control, Dr. Eve Espey, Medical Advisory Chair for Bedsider advises girls to "tie pill-taking to something you do routinely-like brushing your teeth" and answers the most frequently asked questions related to sex. Our goal is for women to feel confident and secure when it comes to their personal health and sexuality.
Leslie Kantor, Vice President of Education at Planned Parenthood describes what is and what is not sexual consent. "Consent means that both people feel good and are excited about what's happening and aren't just letting something happen," says Kantor.
The print component of "Sexual Wellness" is distributed at Colleges and Universities around the country with a circulation of approximately 40,000 copies and an estimated readership of 100,000. Its digital component is distributed nationally through a vast social media strategy and across a network of top news sites and partner outlets. To explore the digital version of the campaign, visit Mediaplanet's Future of Personal Heath content hub.
This campaign was made possible with the support of Lil Dicky, MyLab Box, Eve Espey, Kandi Burruss, Shannon Boodram, Planned Parenthood, Hannah Smothers, Refinery29, Answers-Rutgers, Fight The New Drug, American Sexual Health Association, Thinx and more!
About Mediaplanet 
Mediaplanet is the leading independent publisher of content-marketing campaigns covering a variety of topics and industries. We turn consumer interest into action by providing readers with motivational editorial, pairing it with relevant advertisers and distributing it within top newspapers and online platforms around the world.