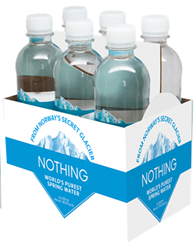 Nothing is an ultrapure, delicious glacier water from Norway
West Milford, NJ (PRWEB) December 02, 2016
Sourced from the Isbre Springs beneath the 5,000 year old Hardanger Glacier in Norway, Nothing Water has very unique properties including its unmatched natural purity of just 6 ppm TDS (Total Dissolved Solids) in addition to its excellent taste profile most often described as clean and crisp.
Nothing Water has had widespread availability in New Jersey ShopRite and FoodTown stores in NJ and has achieved outstanding consumer acceptance..
Nothing is currently available in many Manhattan and nearby locations such as Fairway, Union Market, Westerly Natural Market, West Side Market, Battery Place Market, Gracefully Market, Zabar's, Jubilee Market among others. Nothing will also be available from the leading online grocer Fresh Direct. In addition, Nothing Water will now be distributed by McMahon Farms, a wholesale New York Metro Market distributor of Organic, Natural and Specialty Foods and Beverages.
Nothing has also been approved and will soon be available in the leading New York City online grocer, fresh Direct.
Bill Louttit, the CEO of NGWNA, stated that Nothing Water from the Isbre Springs was previously available in over 8,000 US locations including many well known supermarket chains, restaurants, health clubs and convenience stores where it was sold as Isbre Water. NGWNA is aiming to quickly expand the coverage of Nothing Water nationwide.