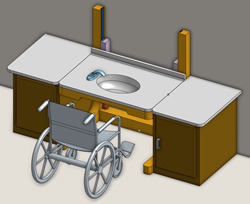 Steve Derby the Design Manager for Pack Flow states "that this will be a major change in the way bathrooms are designed for seniors, wheelchair users and children"
Troy NY (PRWEB) December 03, 2016
The Comfort Flow sink allows the user the ability to adjust the sink to the best height for their use, as well as how far away from the wall for wheelchair users. All of this is done with the push of a button. The market for seniors, wheelchair users, and those who have children is growing and the needs are there every day. Seniors will enjoy the features of not having to bend over when using the sink. Age is something we all enjoy, but it does come with some limitations. The Comfort sink helps to ease those limitations by making everyday tasks easier.
Wheelchair users will enjoy the benefit of having the sink move out to them without concern of interference of the plumbing pipes and having the sink faucet and controls close at hand will make use far easier. The same system can be used with children to lower the sink to their height. No more trying to stand on a stool or chair for the little ones to use the sink. Now they can use it the same way their parents do.
The Comfort Flow system is available on Kickstarter with video and additional information just hit Ctrl and click at:
https://www.kickstarter.com/projects/1419185061/adjustable-bathroom-sink-for-seniors-disabled-and
Pack Flow Concepts, LLC is a design and consulting company that considers simplified design its major criteria. We've received a number of patents this year for our designs. We are bringing the Comfort Flow sink to market to assist those in need.
If you would like more information about this topic, please contact Gene Eckert at above sites.