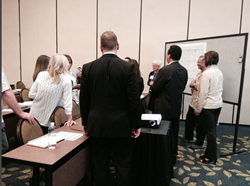 The workshop format is fabulous. It is unique that we get the opportunity to work hand-in-hand with business architects at all different levels. Joy R.
Soquel, Caloifornia (PRWEB) December 07, 2016
The Business Architecture Guild is pleased to present the fifth annual Business Architecture Innovation Summit in Reston, VA on March 21-22, 2017. This premier event features business practitioners and experts from around the world who will share a range of experiences from a cross-section of industries such as financial services, insurance, healthcare, manufacturing, transportation, retail, and utilities. Discussions weave together state-of-the-art and state-of-the-practice approaches that feature business architecture's role in:

Strategy enablement and business model deployment
Practice alignment and roadmap definition
Portfolio management and investment strategy
Risk management and regulatory compliance
Business performance analysis
Digital transformation and customer experience
Special sessions this year include presentations from business architecture reference model teams teams who will walk through critical work underway in the insurance, healthcare, financial services, and manufacturing industry; as well as the popular lightning talks.
For those new to the discipline, consider attending the Business Architecture Primer being offered on Monday afternoon, prior to the Summit.
Special this year, in conjunction with the Summit, the Business Architecture Guild® is also pleased to sponsor a 1-day Business Architecture Reference Model Workshop on March 23, 2017 also in Reston, VA. The workshop will evolve the "common reference model" and focus on strategic and supporting value streams and capabilities. Common reference model perspectives are shared across multiple vertical industries, be integrated into vertical reference models, and help realize the Guild's strategy of establishing a library of interchangeable reference models as work matures. Stay with us or join us after the Summit for this unique experience of hands-on building capabilities and value streams. This is the perfect practice-run for your own firm's mapping projects.
Please join us at these events and exchange success stories and innovative ideas with fellow business architects from a cross-section of industries.
To register for any or all of these events, follow this link.
About the Business Architecture Guild®
The primary purpose of the Business Architecture Guild® is "to promote best practices and expand the knowledgebase of the business architecture discipline." The Guild is an international, not-for-profit, member-based organization that provides valuable resources to business architecture practitioners and others interested in the field. The Business Architecture Guild® is the source of A Guide to the Business Architecture Body of Knowledge® (BIZBOK® Guide) and providers of the Certified Business Architect (CBA)® program, which certifies business architects worldwide. For more information visit http://www.businessarchitectureguild.org.