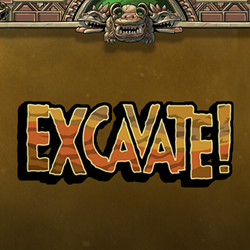 Uncover the secrets of past cultures
Bethesda, Maryland (PRWEB) December 02, 2016
DIG-IT! Games, a mission-based, independent developer of award-winning interactive learning tools announces their EXCAVATE!™ Series of games. Available online, these games are designed by former middle school teacher and DIG-IT! Games CEO, Suzi Wilczynski, to take kids on archaeological adventures through time and around the world, that are both entertaining and educational.
Using archaeologists' tools, players will uncover real artifacts from ancient cultures. The game gets players immediately in the dirt evaluating the proper tool to use while learning about the scientific process of excavation. Players are exposed to concepts such as stratigraphy, context and the importance of proper recording. Analysis then takes center stage as players learn about the significance of the artifacts they collect and the processes involved in gaining a deeper understanding of ancient people through material culture.
"We listened to educators and parents searching for new ways to bring world history and culture to their students and children" says Wilczynski. "Our EXCAVATE!™ series delivers a fun experience for students to uncover the secrets of past cultures." This series includes the civilizations of the Mayan, Egypt, Mesopotamia (January 2017) and Greece (March 2017). In later 2017, the civilizatons of Rome, Mali, and China are planned.
Each civilization is a stand-alone game with its own artifacts. These "chapters" will have players learning the scientific process of archaeology. Players will explore cultures long past and more recent at sites ranging from the Bronze Age to Early America. The EXCAVATE!™ series gives players insight into the full spectrum of human history across the globe.
DIG-IT! Games' announcement coincides with the 2016 National Social Studies Conference in Washington D.C. "We are committed to being a leader in game-based learning in the social studies education marketing" says Wilczynski. The DIG-IT! Games team is at booth 739 at the conference to discuss how to implement game-based learning into social studies curriculum.
These educational games are suitable for grades 3-8 and correlate to Common Core and Virginia Standards. They are supported on most recent browsers and IOS and therefore suitable for delivery on most educational hardware. It is available immediately at the Dig-it! Games website store as a subscription license. Bulk purchase discounts are available. Learn more about how this game can meet your historical and math goals simultaneously by joining our teacher network where you can review the game for free.
About DIG-IT! Games: Dig-It! Games is an award-winning, mission-based game development studio dedicated to creating games that encourage kids to explore the world around them. Founded by professional archaeologist and former middle-school teacher, Suzi Wilczynski, Dig-It! Games develops educational tools that promote critical thinking, independent learning and cultural understanding. All games incorporate age-appropriate content in math, science, social studies and language arts into fun interactive and engaging learning experiences. Learn more at DIG-IT! Games http://www.dig-itgames.com Social Channels: Twitter: @digitgames, Facebook: http://www.facebook.com/DigitGames