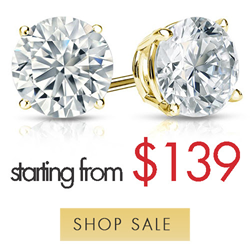 Los Angeles, CA (PRWEB) December 02, 2016
Holiday shopping is effortless when purchasing that special gift from DiamondStuds.com. This holiday season DiamondStuds.com is offering a great discount starting December 1st that offers great discounts for those who shop early. The discounts will downturn as it gets closer and closer to Christmas. These savings won't last long and customers who take the opportunity to shop early this holiday season will save more on diamond studs, pendants, earrings, rings and more. DiamondStuds.com discount offers begin with 20% off all orders starting December 1st and reduce slowly in the following days. DiamondStuds.com customers that take advantage of these early promotions will save more on their holiday purchases. Diamonds can make for the perfect holiday gift. Choose between a variety of different customizable setting options in order to create the most unique and personal gift. DiamondStuds.com hopes customers will take advantage of these amazing deals just in time for the holidays.
About DiamondStuds.com:
Armed with a mission of lasting excellence and superior knowledge about diamonds, DiamondStuds.com focuses on diamond jewelry. The attention to details allows the company to offer their consumers the largest selection of fine diamond jewelry online. DiamondStuds.com also provides a huge array of customization options, enabling each individual to create an exquisite pair of studs, halo earrings, gemstone earrings or fashion earrings unique to his or her personal preferences. To learn more about DiamondStuds.com, please browse the website at http://www.diamondstuds.com. Customers can call DiamondStuds.com at 1-855-WOW-STUDS (1-855-969-7883), to speak live with a diamond expert or send an email to info(at)diamondstuds(dot)com.