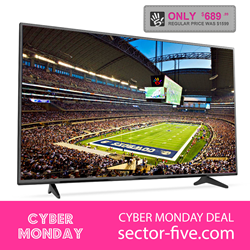 Sector 5 has Success on CYBER MONDAY with its 65" 4K Ultra HD DLED TV That TRUMPS Smart TV Competitors
Alexandria, VA (PRWEB) December 02, 2016
Sector 5, Inc. (OTCQB:SECT) announces that the Company is having success during this first week of holiday sales. Amazon sales were strong. Smart TVs are confusing because most consumers use them with a cable TV or video streaming box resulting in an overly complicated experience. The "smart" software is generally not very good with confusing, baffling interfaces unique to that model. The TV's don't receive software updates often enough as delivery protocols and hardware technology continue to evolve. The ultimate TV entertainment experience is achieved by combining a no fuss TV like Sector 5's 65" TV with a Chromebox, Apple TV, Roku, XBOX, PlayStation or similar external solution.
More importantly, Smart TVs can be a security concern. Hackers can potentially access your TV through a back door allowing them to seeing what you are viewing, photos, USB memory stick content and perhaps even access your smart TV's build-in camera.
Roger McKeague, Sector 5 CEO, states, "Smart TV's are Stupid, More Expensive, Hackers New Tool to Watch Viewers at Home and Gain Access to Personal Information. Smart TV's are just a Gimmick like 3D and Curved TV's.
"At Sector 5, we feel that Smart TVs are a bad investment. Most people already have access to their desired content because they're watching TV through cable or satellite boxes with the same features. Plus, those Internet features on TVs are among the earliest to go obsolete. Sector 5 is selling its 65"4k Ultra HD DLED for $689.99."
Roger McKeague, added, "If it connects to the Internet without the proper firewall, it's vulnerable to attack. Smart TVs are often developed with less scrutiny for security than more IT oriented equipment like Chromebooks and routers. Your TV can represent the most vulnerable piece of electronics in your home, allowing cyber criminals a way to hack into your home to spy by accessing built-in cameras and microphones. People watching TV might never know that their TV is watching them."
Sector 5, Inc. (OTCQB: SECT), SIC Code 3571 - Electronic Computers, is a Proud American Corporation, that sells, manufactures and develops new innovative consumer electronics under Sector 5® and other brands. The Company markets its partnership with Google approved Chromebooks to educational organizations, other B2B and B2C sales channels, with retail sales on Amazon. It is in development of several new products to serve the educational, business and retail markets.
Follow the company on http://www.twitter.com/sectorfiveinc and http://www.facebook.com/sect5 and find further information at http://www.sector-five.com.
Forward Looking Statement
Certain statements made in this release are "forward-looking statements" regarding the plans and objectives of management for future operations. Such statements involve known and unknown risks, uncertainties and other factors that may cause our actual results, performance or achievements to be materially different from any future results, performance or achievements expressed or implied by such forward-looking statements. The forward-looking statements included herein are based on current expectations that involve numerous risks and uncertainties. Our plans and objectives are based, in part, on assumptions involving judgments with respect to, among other things, future economic, competitive and market conditions and future business and financial decisions, all of which are difficult or impossible to predict accurately and many of which are beyond our control. Although we believe that our assumptions underlying the forward-looking statements are reasonable, any of the assumptions could prove inaccurate and, therefore, there can be no assurance that the forward-looking statements included in this website will prove to be accurate. In light of the significant uncertainties inherent in the forward-looking statements included herein particularly in view of the current early stage of our operations and lack of sufficient financing, the inclusion of such information should not be regarded as a statement by us or any other person that our objectives and plans will be achieved. Factors that could cause actual results to differ materially from those expressed or implied by such forward-looking statements include, but are not limited to, the risk factors set forth in our periodic reports and other filings we make with the U.S Securities and Exchange Commission. We undertake no obligation to revise or update publicly any forward-looking statements for any reason, except as required by federal securities law.
CONTACT: pr(at)sector-five(dot)com
Main Phone: 571-348-1005