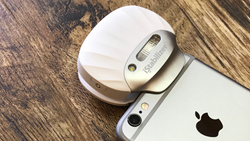 We are making pro-grade images attainable on phones by combining the convenience of a smartphone camera with a pocket-sized professional flash
HEBER CITY, UTAH (PRWEB) December 02, 2016
Xenon Flash Shell exceeded its initial goal of $5,000 on the first day of crowdfunding and went on to raise $24,800 from enthusiastic backers. The demand for the technology will now be satisfied through direct sales on iStabilizer.com.
The Xenon Flash Shell is the brainchild of iStabilizer CEO Noah Rasheta, who wanted to help iPhone and iPad users create professional level photography. The product, which produces better photos with incredibly bright light, was an instant success.
Low-light photography offered from a built in smartphone flash causes significant noise and grain in the photo. LED lighting is simply not strong enough to capture clear photos in low-light conditions. Xenon Flash Shell solves this problem: See the comparison here.
"Our success on Kickstarter happened as quick as a flash and we're thrilled with the response. Xenon Flash Shell has been a result of years of hard work, research and development," says Rasheta. " We are making pro-grade images attainable on phones by combining the convenience of a smartphone camera with a pocket-sized professional flash."
The Xenon Flash Shell works with almost all iPhones and iPads, via Bluetooth. An Android-compatible version is expected in the first quarter of 2017. Fans will continue to be able to purchase accessories such as the SmartFlex Tripod, the Bluetooth Shutter Remote, and the Mini Standard Tripod, in addition to the Xenon Flash Shell itself.
To order visit: https://istabilizer.com/products/xenon-flash-shell/
About iStablizer:
iStabilizer makes lightweight and compact tripods, dollies, gimbals, mounts, and photography accessories for amateurs and professionals. The iStabilizer team has been developing photography and video accessories for the iPhone since it first came out. The team is composed of innovators, entrepreneurs, and photographers at heart.