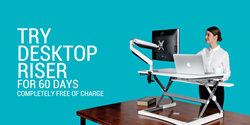 Livermore, California (PRWEB) December 02, 2016
FlexiSpot, a trusted name in sit-stand solutions for business professionals, proudly announces the launch of its 60-day free trial program for all of the company's desktop riser products. A simple application form and complimentary round trip shipping make the offer a truly hassle free experience.
FlexiSpot's unique desktop risers use an advanced dual gas spring hovering system to support quick, smooth and stable height adjustments. The attractive risers are currently available in two convenient sizes with two additional sizes available soon. All styles offer a deep work surface and a wide keyboard tray. They also feature an innovative groove that allows for instant tablet and phone integration.
"Once people experience the health benefits of both sitting and standing at a properly designed ergonomic station, there's no going back," said Lane Xiang, CEO at FlexiSpot.
As modern studies increasingly indicate the health risks of a sedentary lifestyle*, now's a great time to try out new ways of working. FlexiSpot's desktop solution makes it easy to adapt nearly any flat surface into a sit-stand station. The risers also provide a proper ergonomic design, which can help reduce the risk of neck strain, back pain and other neuromuscular ailments.
60-Day No-Obligation Trial Details:
People interested in trying out a FlexiSpot risk free need only fill out a simple application form. Once approved, FlexiSpot will ship the product to the customer's place of business. Flexispot representatives will pick up the product in person, or a pre-paid shipping label is included, allowing the user to return the item within 30 days if not 100% satisfied. It's a no risk, no hassle trial offer.
"With our new no-obligation trial program, we're making it easy for people to see why so many customers are choosing to make FlexiSpot's convenient sit-stand risers a staple of the modern office," said Lane Xiang.
The quality construction of the desktop risers has given the FlexiSpot brand a loyal following. Customers also praise the product's special features, including a large number of height adjustment settings, a space-saving desktop footprint, and the ability to smoothly move the riser directly up and down without the "forward shifting" motion found in other brands.
For more information regarding FlexiSpot's no-obligation trial, please visit: http://www.flexispot.com/freetrial
About FlexiSpot:
FlexiSpot makes sit-stand office products for a variety of workplace environments. Its solutions support a diverse workforce by offering products that help people of different heights and sizes achieve improved posture and better movement while working.
*Sources:
1. http://www.livescience.com/49518-sitting-cancer-heart-risk.html