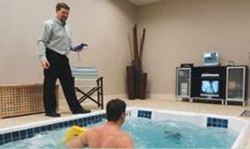 The treadmill made all the difference in...being able to set achievement goals to increase their workload and speed of gait and that carried over into their regular function perfectly.
Middletown, PA (PRWEB) December 05, 2016
When Tony Pazzaglia, CEO of Monterey, CA based Terrapin Physical Therapy, Inc., began embracing water therapy for his orthopedic patients, he never realized how transformative aquatics could be thanks to modern developments. Today, Pazzaglia is a firm believer that when water therapy techniques are applied in a high-tech environment, the possibilities are endless and exciting.
As he has noted when discussing his therapy pools with underwater treadmill and resistance jets, "The treadmill made all the difference in the world for objectively measuring how much work my patients were doing in improving their balance, being able to set achievement goals to increase their workload and speed of gait and that carried over into their regular function perfectly. We found that whatever could be performed in the pool could be transferred to land."
Pazzaglia will talk about his journey to becoming a proponent of aquatic therapy in a webinar scheduled for Wednesday, December 6, 2016, from 3:00-4:00 p.m. E.S.T. "Aquatic Applications for Orthopedic Physical Therapy" will focus on how Terrapin Physical Therapy uses its HydroWorx 500 Series therapy pool and new 300 Series, perfect for existing facilities, to build strength, flexibility and endurance for a wide range of patients.
In addition to a robust discussion of the basic aquatic applications he uses at his facility, Pazzaglia will discuss in-depth population-specific protocols and exercises. This unique sharing of the methods he's used to successfully help orthopedic clientele achieve goals from improvement of daily activities to elite Olympic marathon running are designed to engage, inspire and educate audience members.
The live webinar is free to attend and is well-suited for professionals in the physical therapy field, including administrators considering aquatic therapy. Interested participants are asked to pre-register for "Aquatic Applications for Orthopedic Physical Therapy" at http://ww2.hydroworx.com/webinar-ortho-terrapin to ensure a spot to this online event.
About the Presenter
Tony Pazzaglia, CEO of Terrapin Physical Therapy, is a Board Certified Orthopedic Clinical Specialist. His formal education includes a B.A. in Physiology of Exercise/Athletic Training from California State University, Chico, a B.S. in Physical Therapy from California State University, Sacramento and a Doctor of Physical Therapy degree from the EIM Institute of Health Professionals. He utilizes his wide experience working with a range of client populations when he designs aquatic protocols and treatment plans.
An advocate of water therapy, especially in high-quality, advanced therapy pools and similar modalities, his facilities include two HydroWorx therapy units. The second a standalone product introduced in June 2015 at the National Athletic Trainers' Association (NATA) conference was so intriguing that Pazzaglia became the first customer to make a purchase.
About HydroWorx
Since the late 1990s, HydroWorx has manufactured aquatic therapy pools with integrated underwater treadmills to enable rehabilitation professionals to more effectively offer their patients the opportunity to increase range of motion, decrease risk of falls and joint stress, and remain motivated through the rehab process.
Products such as the HydroWorx 2000 and 500 Series therapy pools, along with the new HydroWorx 300 system have revolutionized the face of aquatic therapy; in fact, HydroWorx technology is used by world-class facilities such as OrthoCarolina, Cleveland Clinic, Kennedy Krieger Institute, Genesis Healthcare, Neuroworx, Clear Choice Healthcare, PruittHealth, Premier Rehab, Leg Up Farm and many other healthcare facilities across the country.
HydroWorx offers a wide range of underwater treadmill pools and peripheral products and services. Every day, more than 30,000 athletes and patients use HydroWorx technology to recover from injuries and health conditions.
More information about HydroWorx can be found at http://www.HydroWorx.com.
# # #