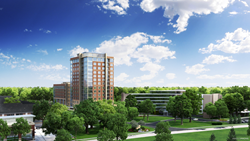 Ziegler is thrilled that the refunding bonds were priced at attractive interest rates that will significantly reduce BPH's interest cost. We look forward to continuing our relationship with them going forward.
Chicago, IL (PRWEB) December 02, 2016
Ziegler, a specialty investment bank, is pleased to announce the successful closing of the $67,610,000 Series 2016 tax-exempt, fixed-rate financing for Brazos Presbyterian Homes (BPH), a new client to Ziegler. BPH owns and operates two continuing care retirement communities in Houston, Texas: Brazos Towers at Bayou Manor and the Hallmark. Together, the two communities consist of 310 independent living units, 37 assisted living units, 18 memory support units, and 69 nursing beds and related common areas and green space.
BPH was originally founded as a ministry of the Presbyterian Church in 1960, however, the Presbyterian Church has no current obligations to BPH. Nonetheless, BPH remains committed to providing a faith-based environment to residents while remaining open to those of all faiths.
The proceeds of the Series 2016 Bonds will be used by BPH to (i) advance refund a portion of the outstanding Series 2013B Bonds; (ii) fund a debt service reserve fund; and (iii) pay certain costs of issuance. The Bonds are rated "BB+" with a positive outlook from Fitch Ratings. The refunding will save BPH approximately $3.299 million on a net present value basis representing 6.04% savings of refunded bonds.
Labinco Clarke, Chief Financial Officer, Brazos Presbyterian Homes, stated, "We are thankful that within a very short period, Ziegler was able to successfully complete our refinancing. Brandon Powell and Ziegler's team of expert professionals seamlessly guided us through the process which achieved significant savings which will benefit our current and future residents."
"Ziegler is thrilled that the refunding bonds were priced at attractive interest rates that will significantly reduce BPH's interest cost. We look forward to continuing our relationship with them going forward," commented, Brandon Powell, Director in Ziegler's senior living practice.
Ziegler is one of the nation's leading underwriters of financing for not-for-profit senior living providers. Ziegler offers creative, tailored solutions to its senior living clientele, including investment banking, financial risk management, merger and acquisition services, investment management, seed capital, FHA/HUD, capital and strategic planning as well as senior living research, education, and communication.
For further information on the structure and use of this issue, please see the Official Statement located on the Electronic Municipal Market Access system's Document Archive.
For more information about Ziegler, please visit us at http://www.Ziegler.com.
About Ziegler:
The Ziegler Companies, Inc., together with its affiliates (Ziegler), is a privately held, specialty investment bank with unique expertise in complex credit structures and advisory services. Nationally, Ziegler is ranked as one of the leading investment banking firms in its specialty sectors of healthcare, senior living, religion, and education, as well as general municipal and structured finance. Headquartered in Chicago, IL with regional and branch offices throughout the U.S., Ziegler provides its clients with capital raising, corporate finance, FHA/HUD, strategic advisory services and research. Ziegler serves institutional and individual investors through its wealth management and capital markets distribution channels.
Certain comments in this news release represent forward-looking statements made pursuant to the provisions of the Private Securities Litigation Reform Act of 1995. This client's experience may not be representative of the experience of other clients, nor is it indicative of future performance or success. The forward-looking statements are subject to a number of risks and uncertainties, in particular, the overall financial health of the securities industry, the strength of the healthcare sector of the U.S. economy and the municipal securities marketplace, the ability of the Company to underwrite and distribute securities, the market value of mutual fund portfolios and separate account portfolios advised by the Company, the volume of sales by its retail brokers, the outcome of pending litigation, and the ability to attract and retain qualified employees.
# # #