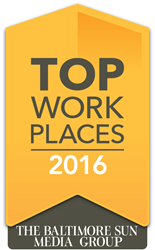 This award is an honor for us, and I am very proud of my colleagues, but the real winners are the students and families who are finding success in the online schools and programs we support.
Baltimore, MD (PRWEB) December 13, 2016
Connections Education LLC (http://www.connectionseducation.com), a leading provider of digital learning solutions for students in grades K-12, is pleased to announce that it has been named a 2016 Baltimore Sun Top Workplace for the fourth consecutive year. Top Workplace awards are determined based solely on employee feedback through a survey conducted by WorkplaceDynamics, LLC, a leading research firm on organizational health and employee engagement.
"We have a clear purpose to help students be successful," a Connections Education employee said in the survey. "We also work with the best people I know."
The Baltimore Sun Top Workplace award reflects Connections Education's long-standing corporate culture of caring and excellence. Recognized in the large company category (400+ employees), the Connections Education workforce includes more than 3,700 employees nationwide. More than 800 employees work across Maryland, and, perhaps unsurprisingly for an e-learning company, 55% of company employees nationwide work from home.
"As president and a co-founder of Connections Education, it's especially rewarding to be recognized as a top workplace. We've operated in Baltimore for fifteen years—an organization that includes dedicated local talent delivering innovative digital learning solutions to K-12 students around the world," said Steven Guttentag, Ph.D., president and co-founder of Connections Education. "This award is an honor for us, and I am very proud of my colleagues, but the real winners are the students and families who are finding success in the online schools and programs we support."
Award Tops Growing List of 2016 Honors
Since supporting its first online school in 2002, Connections Education has nurtured and challenged students to help them reach their highest potential. In addition to Top Workplace recognition, the organization received the following program awards in 2016:

AVA Digital Award for Connections Education's School of the Future video
Tech & Learning Award of Excellence for Best New Products
USDLA Award for Outstanding Leadership by an Individual in the Field of Distance Learning
EdTech Leadership Award
EDDIE Awards for Learning Coach Central, American Government, Social Studies 8, and WebQuest
CODiE Award finalist for Best Professional Learning Solution for K-20 Faculty and Administrative Staff
BESSIE Awards for Best Educational Software
"The Top Workplaces award is not a popularity contest. And oftentimes, people assume it's all about fancy perks and benefits," says Doug Claffey, CEO of WorkplaceDynamics. "But to be a Top Workplace, organizations must meet our strict standards for organizational health. And who better to ask about work life than the people who live the culture every day—the employees."
For a complete list of employee benefits, visit the Careers section of the Connections Education website.
About Connections Education
Founded in 2001, Connections Education LLC is a leading provider of high-quality, highly accountable online education solutions for schools, school districts, and students in grades K–12. It serves families and schools with a variety of digital learning and online school solutions including Connections Academy, International Connections Academy, and Pearson Connexus. In 2016, Connections Education brings full-time online and blended school to 65,000 students across the U.S. and abroad, and delivers online courses to over 340,000 students. In total, over 400,000 students in the U.S. and 48 countries will receive online learning from Connections Education in 2016. Connections Education is based in Baltimore, Maryland and was named a 2016, 2015 and 2014 "Top Workplace" by the Baltimore Sun and a 2013 "Best Place to Work" by Baltimore magazine. Regularly recognized for its outstanding curriculum and leadership, Connections Education is committed to expanding quality education through technology, and helping students achieve both academic and personal success. Connections Education is part of the global education company, Pearson.
About WorkplaceDynamics, LLC
Headquartered in Exton, PA, WorkplaceDynamics specializes in employee feedback surveys and workplace improvement. This year alone, more than two million employees in over 6,000 organizations will participate in the Top Workplaces™ campaign—a program it conducts in partnership with more than 40 prestigious media partners across the United States. Workplace Dynamics also provides consulting services to improve employee engagement and organizational health. WorkplaceDynamics is a founding B Corporation member, a coalition of organizations that are leading a global movement to redefine success in business by offering a positive vision of a better way to do business.