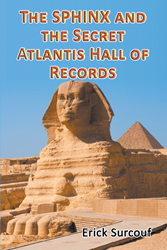 "For everyone who enjoys a good mystery, this one has it all. There are secrets from the past as well as a wild jaunt through ancient Egyptian antiquities." - Robert Fletcher, CEO of Strategic Book Publishing and Rights Agency
(PRWEB) December 05, 2016
"The Sphinx and the Secret Atlantis Hall of Records" begins when an American Egyptologist comes across an astonishing find in Giza. He is little prepared for the huge consequences that arise from his discovery. As political and religious forces gather against him, he asks a former student to assist him in his work.
But when the former student arrives in Egypt, his old professor is nowhere to be found. What ancient and modern forces are in play, and is the world ready to accept the secrets of the past? This stunning novel will shake some foundations and makes for a fascinating read.
Watch the video at: https://youtu.be/GZcVibAdIFE
About the Author: Erick Surcouf was born in Paris, France, and has traveled around the world to more than 56 countries. He has lived in California, Mauritius Island, Reunion Island, Côte d'Azur (near Saint-Tropez), and now resides in Hyères on the South Coast of France. He is a noted marine treasure hunter, who has always been interested in unexplained mysteries as well as ancient civilizations that have disappeared, but have had an important influence on mankind's evolution.
"For everyone who enjoys a good mystery, this one has it all. There are secrets from the past as well as a wild jaunt through ancient Egyptian antiquities. We are proud to be the publisher," said Robert Fletcher, CEO of Strategic Book Publishing and Rights Agency.
THE SPHINX AND THE SECRET ATLANTIS HALL OF RECORDS (ISBN: 978-1-68181-715-6) is now available for $16.95 and can be ordered through the publisher's website:
http://sbprabooks.com/ErickSurcouf or at Amazon.com or Barnesandnoble.com.
WHOLESALERS: This book is distributed by Ingram Books and other wholesale distributors. Contact your representative with the ISBN for purchase. Wholesale purchase for retailers, universities, libraries, and other organizations is also available through the publisher; please email bookorder(at)sbpra.net.