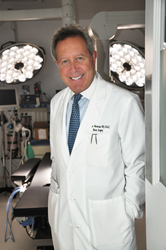 Patients today are educated and seek extremely natural-looking results.
New York, NY (PRWEB) December 05, 2016
Dr. Barry M. Weintraub, one of New York City's top plastic surgeons and founder of 5th Avenue Cosmetic Plastic Surgery, who recently participated in the 36th Annual Cutting Edge Aesthetic Symposium at the Waldorf Astoria in New York City, will now be offering five of the newest techniques for getting that perfect, yet natural-looking, nose. Dr. Weintraub, who is world-renowned for his expertise in cosmetic surgery of the face and nose, says a rhinoplasty twenty years ago and today are two very different things. "Patients today are educated and are seeking extremely natural-looking results. I'm thrilled to offer such advanced procedures to my patients."
 
These five techniques include tip grafting, cartilage suturing, extracorporeal nasal reconstructing, power precision-tool usage and cartilage-paste injecting:
 

TIP GRAFTING – There is new attention being paid to the all-important tip of the nose, which determines so much of the "character" of the nose.  According to Dr. Weintraub, "Finesse in tip grafting by means of support up the center of the nose, and with nostril-arch grafts, helps produce a most natural-looking nose, and can correct the plunging tip upon smiling that often makes people look older than they are."  The focus on the nose's profile is gaining attention since people are increasingly aware of how they look from every angle due to the popularity of photographs.
NEW CARTILAGE SUTURING TECHNIQUES – In the past, the cartilage of the nose (the lower part of the nose) was simply trimmed and discarded to reduce the bulbousness, but just trimming is no longer enough. "If you think of the cartilage as being too big for the skin," says Dr. Weintraub, "you can understand that after trimming the obvious part, the remaining cartilage of the tip and nostril rim must be sutured in order to make it proportionate. This brings definition to the tip and decreases width."  The result is a nose that is in harmony with the rest of the face.
EXTRACORPOREAL NASAL RECONSTRUCTION – This tongue-twisting term means that in surgery, the elements of the nose are taken completely out of the nose, operated on externally, then put back into the patient's body. "Revolutionary things are being done on a sterile table in the operating room without these elements even being attached to the patient's nose at the time. The body is miraculous in that it can heal quite well over a new framework, and maneuvers that were not possible before are now entirely within reach," says Dr. Weintraub.
PRECISION POWER TOOLS – Chisels and mallets are the old tools of rhinoplasty, according to Dr. Weintraub.  "Today, highly specialized power tools are used to sculpt bone with extreme care and accuracy.  A bony hump can be smoothed, and the crucial area of the bridge can now be addressed with these tools so that the intersection of the forehead and the nose becomes defined in a natural way."
CARTILAGE PASTE – There are many problems in treating patients with contour issues, especially in revision rhinoplasty cases.  "I have many patients seeing my help from all over the world with unfortunate results from other offices," says Dr. Weintraub.  "One of the toughest problems in a revision rhinoplasty has to do with contour deformities that seem like they're on the surface of the nose, but in fact are in the substructures of the nose. There is now a new approach that involves taking the patient's own cartilage, turning it into a moldable paste, and using this paste to fill the irregularities."
 
ABOUT DR. BARRY M. WEINTRAUB
Ivy League educated and Board Certified, Dr. Barry Weintraub has been treating patients in NYC with the utmost care and professionalism for decades. The recipient of countless awards and the National Spokesperson for the American Board of Plastic Surgery, Dr. Weintraub is renowned for consistently delivering extraordinary results. One of the world's top plastic surgeons with expertise in rhinoplasty and facelift, as well as neck lift, eye lift, and revision rhinoplasty, he is often consulted on difficult cases due to his skill set and decades of experience.  Dr. Weintraub's philosophy of "less is more" appeals to many who are considering plastic surgery or any cosmetic procedure. Many patients travel from abroad to have surgery at his elite, hospital-grade, completely private facility. His international concierge program welcomes overseas patients to his New York office, tailored to foreigners and those who wish to be pampered with the most luxurious and outstanding experience, guaranteeing the utmost in privacy and personalized medicine. For more information on the services offered by Dr. Weintraub, visit his website at http://www.drbarryweintraub.com or contact his office in Manhattan at (855) 733-1717.
 
For more information, please contact:
Lauren Stiffelman / lauren@rcourihaycpr.com / (212) 580-0835