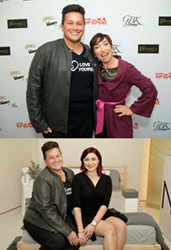 Los Angeles, CA (PRWEB) December 08, 2016
GBK, the luxury lifestyle gift lounge and special events company, Bidding for Good, and OUE Skyspace LA partnered up for their first Holiday 'Giving' lounge. For the first time ever, GBK also opened its prestigious gift lounge to the public. The one caveat was they had to bid on the opportunity to attend with one of the many "Nice" celebrities agreeing to partake. The "Naughty" celebrities will remain undisclosed at this time. Special thanks to Song Writer, John West, who won this priceless opportunity and donated over $10,000 to Children's Hospital LA, Hatian Hero, and Planned Parenthood.
A variety of causes were highlighted at the event with the intention to promote awareness, in addition to raising money for these diverse organizations in time for the holiday season. The on-site charity beneficiaries included:
Toys for Tots - Toys for Tots is a program run by the United States Marine Corps Reserve which distributes toys to children whose parents cannot afford to buy them gifts for Christmas. HASBRO was kind enough to send hundreds of toys, including their Star Wars BladeBuilders Spin-Action Lightsaber and Marvel's Captain America: Civil War Miniverse figures! For more information, please visit: toysfortots.org.
Make-A-Wish Greater Los Angeles – Make-A-Wish grants the wishes of children with life-threatening medical conditions to enrich the human experience with hope, strength and joy. They had the opportunity to invite many of the celebrities in attendance to their Annual Gala on December 7th, honoring Robert Downey Jr, Scooter Braun, and the LA Kings. For more information, please visit: la.wish.org.
Other charity beneficiaries included: Children's Hospital LA Treasures Planned Parenthood, Hatian Hero, Cystic Fibrosis Foundation, YOU Foundation for Children in Need, International Rett Syndrome Foundation, Children of the Night, and Educating Young Minds.
Luxury gifts from a variety of different categories including beauty, fashion, toys and more filled the lounge and spoiled the charities, who took home giant bags filled with goodies. Items included but were not limited to: American Hat Makers, Any size bed from Tuft & Needle, unique candles with beautiful rings inside from Katya Candles, a $275 voucher from Manly Handz Mobile Spa, amazing sunglasses from TemptBrands.Com, and a $1000 voucher to Ike's Place.
Other fun and tasty treats included items from sponsors such as: Guilty Soles, JH Design's leather jackets, ezpz for kids, a voucher for a custom cake from Polkatots Cupcakes Inc., Swimline and Solstice Watersports, VIP Passes to come back to OUE SKYSPACE LA, and many others.
DJ SHY (http://www.dj-shy.com) topped off the event with her eclectic mix of popular tunes and old-school hits, helping to make this year's first 'Giving' lounge unforgettable.
# # #
ABOUT GBK:
GBK, formerly GBK Productions, is a luxury lifestyle gifting and special events company, specializing in entertainment marketing integration. Formed in 2000 by Gavin Keilly, the company's Founder and CEO, GBK consists of five divisions: GBK Celebrity Gifting, GBK Special Events, GBK Weddings, GBK Charitable Consulting and GBK Marketing/Public Relations. Widely known in the entertainment industry for bringing that little extra something into the Gifting Lounge environment, GBK offers its clients a full range of marketing services. For more information on Gavin B. Keilly (CEO), or GBK, please go to gbkproductions.com.
ABOUT OUE LIMITED:
OUE Limited, a public company listed in Singapore, is a diversified real estate owner, developer and operator dedicated to bringing new life to iconic buildings and communities across the globe.