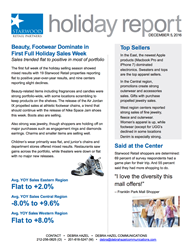 Cyber Monday really has become Cyber Week, and in some respects Cyber Month. Our centers are reporting that promotions continue to drive the in-store experiences, as well.
CHICAGO (PRWEB) December 05, 2016
The first full week of holiday shopping showed mixed results at Starwood Retail Partners' portfolio, with nearly two-thirds of the reporting centers showing stronger or similar year-over-year sales, the company announced today.
"Cyber Monday really has become Cyber Week, and in some respects Cyber Month as online retailers offered extended promotions both before and after November 28," says Scott Wolstein, CEO of Starwood Retail Partners. "Our centers are reporting that promotions continue to drive the in-store experience as well. Shoppers are well trained to look for value, and are taking a wait-and-see attitude on larger purchases."
Regionally, average sales in the Eastern region were flat to up 2.0 percent compared to 2015, while the Central region saw a range from down 8.0 percent to up 9.6 percent. The Western region saw sales range from flat to up 8.0 percent.
By category, cosmetics and fragrance were strong sellers through the week, as were athletic shoes and boots. The release of the Air Jordan IX especially drove sales, and the trend likely is to continue with a new Nike release this week. Apple, Playstation 4 and Xbox were strong sellers on the electronics end. Department stores offered mixed results, but reported that cosmetics are selling well.
Jewelry sales were driven largely by promotions, including gifts with purchase, with most centers noting that shoppers appear to be holding off until later in the season for more expensive items.
To compile the data for the report, Starwood Retail's mall staff requests year-over-year sales from approximately 28 center specialty tenants and department stores that best reflect overall results. Traffic figures are obtained through in-center wifi technology. Retailers also report on the best-selling items at their stores, giving an overview of what today's shoppers want and need. In addition, mall staff at seven centers representative of the portfolio are interviewing guests throughout the season for anecdotal evidence of their shopping plans and patterns.
The full report can be downloaded here.
###
ABOUT STARWOOD RETAIL PARTNERS
Starwood Retail Partners is not your father's – or grandfather's – landlord. We're acquiring, redevelopment, managing, leasing and operating the next generation of shopping centers for a new generation of shoppers: active, exciting community cores for an increasingly interconnected consumer.
Owned by Starwood Capital Group, we have grown our portfolio to 30 centers in 16 states across the United States since our founding in 2012, working with top-tier investment firms to help finance our properties, and employing the talents and skills of the most creative professionals in the business to maximize their value. We build solid relationships and partner with our retailers, and invest in innovative technologies that help our properties become more productive, our stores more exciting and our shoppers more engaged.
We understand that ultimately, as an owner, as an employer and as a citizen of our communities, it's not about property, it's about people. http://www.starwoodretail.com