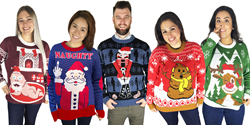 It's hard to be nice, even for Santa!
Los Angeles, CA (PRWEB) December 08, 2016
Each year Stupid.com remains at the forefront of releasing the most bizarre, hilarious, and sometimes tasteless ugly sweaters for men, women and children. The time to whip out the holiday best is here again! Stupid.com is known for its undeniably ugly Christmas sweaters that are completely knit, just as if Grandma made each and every tacky stitch with love.
These ugly Christmas sweaters are not only cheesy but they're comfortable, which makes the perfect combination for any and every holiday celebration. Stand out and garner laughs this year by wearing an ugly sweater from Stupid.com's 5th annual list!
Here are The 10 Ugliest Christmas Sweaters of 2016 from Stupid.com, listed in no particular order:
Deck the Bathroom Two Person Ugly Christmas Sweater
Mr. and Mrs. Claus have been in a relationship for decades. It is only obvious why they are so comfortable using the restroom and bathing in the same room. This two-person sweater is perfect for that couple who's looking to cozy up to one another at the next Christmas party.
Hello Deer Light Up Ugly Christmas Sweater
Ever wonder how Rudolph gets "turned on?" Studies have shown, it takes a battery pack and some LED lights to get this fellow flashing! This awesome sweater features Rudolph the Red-Nosed Reindeer waving hi with his nose lighting up!
Oh Christmas Tree Ugly Christmas Sweater
"Ohh Christmas tree, ohh Christmas tree, how does thee look on fire?" This sweater demonstrates what happens when the Christmas lights are left on overnight. Send a friendly Smokey the Bear reminder at any holiday party, and watch people run home to make sure they turned off the lights.
Mistah Sandy Claws Ugly Christmas Sweater
Santa Claus delivers presents all over the land, but ever wonder who covers the sea? That's Mistah Sandy Claws! Just like Santa Claus is based in the North Pole, Mistah Sandy Claws is located in the warm Caribbean Sea and is a bit more relaxed than his counterpart.
Crappy Holidays Ugly Christmas Sweater
Most of the time the holidays are filled with cheer, but sometimes things can get a little crappy when weird family members get together. What better way to subtly showcase one's true feelings than to wear them? This "Crappy Holidays" ugly Christmas sweater features a smelly snowman fully made of poop.
Naughty Santa Ugly Christmas Sweater
It's hard to be nice, even for Santa! Dealing with all the wishes, driving for over 24 hours, going through winter storms with no heater in a sleigh and having to be careful to not wake anyone up is hard. It's probably fair to say anyone would be grumpy and want to give a flip of the finger.
Rein-Beers Ugly Christmas Sweater
"All I want for Christmas is a 6-pack of beer" is the most common item requested on Santa's list. Instead of Santa wasting time and gas to deliver some brews, these little Rein-Beers can deliver themselves!
Santa Baby Ugly Christmas Sweater
This sweater puts a twist on the popular Christmas song "Santa Baby." Just look at Santa, he has not changed one bit since he was a baby.
The Nutcracker Ugly Christmas Sweater
It's time to show that Nutcracker payback! This is for all the nuts it has cracked throughout the centuries, maybe it even cracked a loved one's nuts at one point.
Wienter Is Here Ugly Christmas Sweater
Let the town know that "Wienter is here" with this adorable wiener dog wearing an ugly Christmas sweater. Sometimes, dogs just want to fit in with their owner's Ugly Christmas Sweater Party.
About Stupid.com®
Stupid.com has been spreading laughs - one gift at a time - since it burst onto the online retail scene in 1998. From gag gifts to stocking stuffers, the company offers a diverse selection of over 4,000 products in 120 gift categories.
Website:
http://www.Stupid.com
Facebook:
http://www.Facebook.com/Stupidcom
Twitter:
@Stupidcom
Contact:
Gabby Ruiz, gabby(at)stupid(dot)com, 323.878.1286