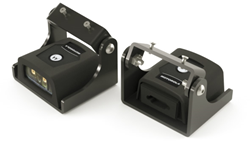 Waterloo, ON (PRWEB) December 06, 2016
Armodilo is pleased to announce newly implemented support for the Zebra DS457 Barcode scanner (formerly from Motorola). This innovative fixed mount scanner is compatible Windows based tablets via a USB connection, offering an integrated low profile scanning option. The scanner offers fast, high volume, hands-free scanning of virtually any barcode – including 1D, 2D and direct part marks.
Armodilo has developed a simple, direct to enclosure mounting pattern that securely integrates the DS457 Barcode Scanner directly to our Original tablet enclosures. The highly refined integration creates a seamless look and is perfect for retail applications when paired with our award-winning Sphere POS Tablet Stand or with any other product in our Original line of tablet enclosures and stands.
Along with support for a direct mount option to the Tablet Enclosures, Armodilo also provides an additional mounting bracket that integrates a 90-degree tilt adjustment.
About Armodilo Display Solutions
Armodilo Display Solutions is a multiple award-winning tablet display manufacturer located in Ontario, Canada. With a variety of tablet display stands and accessories for trade show, event, retail and corporate markets, Armodilo sets itself apart by creating highly refined products for discerning brands around the world.
For more information about Armodilo, contact:
Iles Guran Founder & President
Armodilo Display Solutions
1-800-975-5946