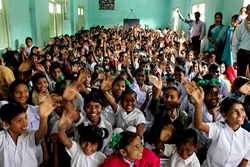 COLORADO SPRINGS, Colo. (PRWEB) December 02, 2016
This week, Compassion International launched a nationwide web campaign to protect its holistic child development work in India, where the organization has operated since 1968. Due to recent changes to the Indian government's interpretation and application of the Foreign Contribution Regulation Act (FCRA), Compassion has not been allowed to send funds to its more than 500 local child development projects throughout India. This change has directly impacted nearly 145,000 children registered in Compassion's program within the country.
The FCRA controls the way charitable organizations inside India can receive funds from foreign sources. The new rules required each of Compassion's 580 child development centers to submit an application (Form FC-3) to the Indian government by October 31, 2016. Sixty-three of Compassion's partners were denied FCRA approval. Despite repeated requests, the Indian government has not provided an explanation for these denials. Compassion made the difficult decision to end its partnership with the 63 centers, impacting more than 14,500 Compassion children in India.
Compassion is also unable to fund any of the remaining partners that received FCRA approval. Nor has the organization been able to provide funds to its two branch offices in India—again, with no government explanation. These decisions by the Indian government put Compassion in jeopardy of having to shut down all of its operations in India.
In the last several months, Compassion has made repeated attempts to resolve the issue with the Indian government, but those attempts have been unsuccessful. Now, the organization is asking its U.S.-based staff and over 500,000 of its supporters to write their congressperson, requesting their intervention in the matter. A pre-written letter is available on Compassion's web site.
"Since the start of its humanitarian work in India in 1968, more than a quarter-million Indian children and their families have benefited from Compassion's programs," said Compassion president and CEO, Santiago Jimmy Mellado, "Our desire to continue serving these children has led us to encourage our supporters to request the help of their congressional representatives. We want nothing more than to comply with Indian law and find favor in the eyes of those with the power to authorize our ongoing care to these children who are suffering in extreme poverty."
On December 6, 2016, Compassion's Senior Vice President of General Counsel will testify on this situation before the U.S. House of Representatives Foreign Affairs Committee. Earlier this year, U.S. Secretary of State John Kerry spoke with key officials in India on behalf of Compassion. Still, Compassion has been unable to provide funds to continue its child development programs in India.
About Compassion International
Founded in 1952, Compassion International is a Christian child development organization that works to release children from poverty in Jesus' name. Compassion revolutionized the fight against global poverty by working exclusively with the Church to lift children out of spiritual, economic, social and physical poverty. Compassion partners with more than 7,000 churches in 26 countries to deliver its holistic child development program to over 1.9 million babies, children and young adults. It is the only child sponsorship program to be validated through independent, empirical research. For more about the ministry, visit compassion.com or Follow them on Twitter @compassion.
# # #
MEDIA CONTACTS
Tim Glenn, Compassion International
tglenn(at)compassion(dot)com
719-272-5377
Becca Bishop, Compassion International
bbishop(at)compassion(dot)com
719-272-5109