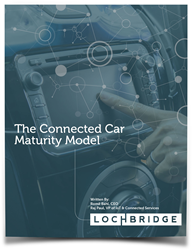 "Companies will spend near $20 Billion in the Connected Car space by 2020."
Detroit, Michigan (PRWEB) December 05, 2016
Lochbridge, an Internet of Things (IoT) technology consulting and solutions provider specializing in Connected Car and IoT innovation, announced the release of a new white paper that details the first structured approach to map Connected Car efforts in the Automotive industry. This white paper was developed to help OEMs ensure they are taking into account the four key business outcomes from automotive connectivity: Loyalty, Differentiation, Quality and Monetization. Lochbridge's Connected Car Maturity Model (C2M2) is a highly effective framework to ensure there is alignment across management levels and organizational units (engineering, IT, marketing, etc.) on the specific goals of an auto manufacturer's Connected Car Program, leading to a more efficient and successful execution.
As OEMs accelerate Connected Car adoption, the IoT era's first real 'use case', it has become common place for OEMs to adopt a reactive approach as they enhance the vehicle-ownership experience. Even where not reactive, most OEMs target just 1-2 dimensions to differentiate from competitors and attract new customers. Often, there is a lack of clarity in the true end vision the OEM is shooting for from its Connected Car strategy, which further needs to be consistent with its brand promise to consumers. Finally, each organizational silo has different goals and priorities, causing confusion in the go-to-market approach and inefficient spend.
"Companies will spend near $20 Billion in the Connected Car space by 2020. It is unsustainable for this spend to continue without much more focus on true business outcomes and a real Return on Investment through monetization leveraging big data analytics" said Romil Bahl, Chief Executive Officer at Lochbridge and one of the white paper's authors. "Considering how crowded the Connected Car market has become, it's easy to get lost in the noise without a holistic framework in place, which is why we crafted Lochbridge's C2M2 model."
Download a complimentary copy of the white paper, "The Connected Car Maturity Model."
About Lochbridge
For over four decades, Lochbridge has been a trusted technology partner to enterprises worldwide. Lochbridge develops technology strategies that drive growth; delivers systems that are the backbone of leading enterprises; and transforms businesses through emerging technologies, including mobile, Internet of Things (IoT) and Big Data analytics. Lochbridge continues to deliver the quality and reliability that our customers rely upon while ensuring their technology continues to elevate their businesses.