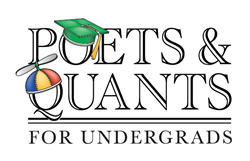 (PRWEB) December 05, 2016
Poets&Quants, the leading online publication for graduate and undergraduate business education news, has produced its first in-house ranking of the 50 best undergraduate business programs in the U.S.
Our winner in the debut ranking is the Olin Business School at Washington University in St. Louis, which boasts the single best undergraduate business experience in the U.S. Rounding out the top five undergraduate business programs are No. 2 Notre Dame, No. 3. Wharton, No. 4 Georgetown, and No. 5. UC-Berkeley.
Our methodology includes three equally weighted categories.
1) Admissions standards that measure the quality of the incoming students.
2) Alumni perspective on the full educational experience, from the quality and accessibility of faculty to whether students had a "signature experience" or a global immersion to best prepare them for work and life.
3) Employment data including internships before senior year, full-time employment within 90 days of graduation, and average compensation.
"This is the most thorough study of undergraduate business education ever undertaken, an amazing resource for prospective students and parents trying to make smart decisions about where to get the business basics for a successful career," says John A. Byrne, editor-in-chief of Poets&Quants. "Never before has anyone gathered the wealth of data we will publish, from actual acceptance rates and average SAT scores to the schools with the best academic and career advising."
Key data and stats from the study and ranking:

Four undergraduate business programs have acceptance rates lower than Harvard Business School's full-time MBA program (11%).
Average SATs for five undergraduate business schools top 1450 on the 1600 scale (not including writing).
Four undergraduate business schools enrolled classes with 90% or greater finishing in the top 10% of their high school graduating class.
Alumni at all but one school rated their alma mater higher than 9 (on a one-to-ten scale) on if they would recommend their business program to a close friend.
Alumni from 13 universities rated their school higher than 9 on if they believe their business degree was worth it's time in cost and tuition.
Half of the schools reported career placements higher than 90% for the Class of 2016.
Eight schools reported starting salaries greater than $70,000 for the Class of 2016.
Along with the rankings, in-depth feature profiles on all 50 schools will be published on poetsandquantsforundergrads.com. Within the school profiles, much more data is revealed ranging from percentage of students receiving scholarships, percentage of students graduating with debt, and where specific schools excel and perform worse compared to other schools.
"The most popular undergraduate degree granted in the U.S. is the business degree," Byrne says. "In 2013-2014, more than 358,000 undergraduate business degrees were conferred in the U.S., roughly double the next most area of studies in the health professions. Yet, most of the information available for would-be students and their parents is at the university level and is not specific to business schools. Some very good universities have so-so business programs. Some lesser known universities have business schools that far excel. We're making that apparent with this ranking."
The ranking was begun at the request of deans at several leading business schools who were unsatisfied with what is currently available on the market. U.S. News and World Report's ranking, for example, is based solely on the opinions of deans and senior faculty members. Some believe it's little more than a popularity contest because it does not measure the quality of incoming students, the academic experience, or employment outcomes.
For questions on methodology, specific data, and interview requests, please contact Nathan Allen, staff writer and project lead at Nathan(at)poetsandquants(dot)com.
About Poets&Quants
Poets&Quants is the leading resource for complete coverage of graduate business education. Poetsandquants.com features multiple tools and authoritative content, including: consolidated B-school rankings, news and in-depth features, videos, podcasts, two searchable directories, and events — empowering graduate business degree seekers with information they need to make decisions along their journey from pre- to post-MBA. Poetsandquantsforundergrads.com takes that level of coverage to undergraduate business education.
About John A. Byrne
Poets&Quants' Editor-in-Chief John A. Byrne is the founder of C-Change Media, a global digital media company of higher education content operating five websites and hosting events worldwide bringing together business school students, the world's best schools, and largest employers. Byrne is the author or co-author of more than ten books, including two New York Times bestsellers, and is the former executive editor of Businessweek, editor-in-chief of Businessweek.com, and editor-in-chief of Fast Company. He also is the creator of the first regularly published rankings of business schools for Businessweek in 1988 and the author of several business school guidebooks. He wrote an unprecedented 58 cover stories for Businessweek and is the only business journalist to have written covers for Businessweek, Fortune, Forbes, and Fast Company magazines.