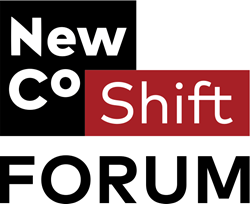 Technology alone is not the answer to how we shift our economy into a new phase of inclusion, growth, and sustainability. It's time for leaders from innovative startups, large enterprise, and policy-makers to come together to discuss the issues.
San Francisco, CA (PRWEB) December 05, 2016
Today NewCo, initially known for its inside-out, experiential business festivals, announces the NewCo Shift Forum, their first invitation-only executive event on "Capitalism at a Crossroads." Convening February 6-8th, 2017 at the St. Regis hotel in downtown San Francisco, NewCo founder John Battelle will bring a new kind of event experience to the business community, this time to convene a dialog on the role of business in today's radically changing society.
"The most successful businesses are those with social purpose at their core," Battelle notes. "The era of business driven by profit alone is over. A new generation of employees, consumers, and citizens are demanding more from business, and the Shift Forum's core purpose is to convene a dialog focused on the role capitalism should play in our society."
Battelle, who many remember as the convenor of the Web 2.0 Summit and a founder of Wired, launched a new publication last April, NewCo Shift, which curates leading voices from the companies and organizations leading the shift to the next generation of capitalism, one that goes beyond profit to include sustainability, purpose, and civic duty as key tenets. In his discussions with a broad cross section of business and civic leaders, Battelle has written widely about how, whether these leaders hail from large businesses like Nestlé, P&G, or Citi, or fast growing insurgents like Box, Dollar Shave Club, or Uber, each shares a conviction that the status quo of how business works has to change.
"Technology has upended many conventional wisdoms," Battelle notes, "but technology alone is not the answer to how we shift our economy into a new phase of inclusion, growth, and sustainability. It's time for leaders from innovative startups, large enterprise, and policy makers to come together to discuss the issues facing us all."
Microsoft, Adobe and Publicis Sapient have signed on to be launch partners for the conference, underwriting and participating in the key discussion areas of policy, business experience and business transformation respectively. Citi Ventures and Perkins Coie are also supporting the event.
The Shift Forum will focus on topics that illuminate seismic shifts in business and society today, including:

Politics, Policy and Uncertainty: In the first few weeks of a new and controversial new administration, we'll explore how the business landscape might change with John Heilemann, note author and creator of Showtime's The Circus, Robert Reich, former Secretary of Labor, Daniel Lurie, CEO and Founder of Tipping Point Community, and Brad Smith, President of Microsoft.
Business Transformation: We'll focus on case studies of how major enterprises are changing their approaches to markets and management with stories of deep transformation from William Kanarick from Publicis.Sapient, Michael Dubin, CEO of Dollar Shave Club, and Aaron Levie, CEO of Box.
Business Experience: We'll dig into new approaches to customer engagement, product development, and innovation with Diego Scotti, CMO of Verizon, David Friedberg, Chair of Eatsa, and Chris Satchell, Chief Product Officer of Comcast.
The new workforce: We'll dive into new ways to think about managing teams in an age of the global economy with Steph Curry of the Golden State Warriors, Lori Goler, Head of People for Facebook, Max Ventilla, CEO of AltSchool, and documentary filmmaker Robin Hauser.
The Role of Capital: We'll discuss the impact of policy and technology on capital with leaders like Fred Wilson, co-founder of USV, Anne Finucane, Vice Chair of Bank of America, Rana Foroohar, Author and Financial Times Columnist, Neesha Hathi, EVP at Charles Schwab, and Debby Hopkins, Chief Innovation Officer of Citigroup.
Healthcare: We'll explore the massive impact of healthcare on our society with Karen Lynch, President of Aetna, Jeff Huber, CEO of Grail Bio, Seth Sternberg, CEO of Honor, Elad Gil, CEO Color Genomics, Adrian Aoun, CEO of Forward, and Alison Lewis, CMO of J&J.
Business Sustainability: Sustainability means more than going green, it means a commitment to a long term, multi-stakeholder view of business. We'll hear from Kathleen McLaughlin, Chief Sustainability Officer of Walmart, Jerry Taylor, founder of the Nisaken Institute, Kara Goldin, CEO of Hint, and Julie Hanna, Executive Chair of Kiva, among others.
Shift Forum is invitation only, potential delegates can apply for an invitation here. The proceedings will be held under Chatham House Rule.
"This unique mix of speakers and delegates will make Shift Forum stand apart," says Brian Monahan, co-founder of NewCo. "We're keeping the event small, and will be focusing on bringing candid conversations to the stage. We'll be running the program under Chatham House Rule so that all participants can feel free to share honest, actionable insights under a circle of trust."
Apply to be a delegate to the Shift Forum.
Press inquiries: stacey(at)newco(dot)co.
About NewCo
NewCo produces a multi-platform publication, NewCo Shift, illuminating the companies, leaders, and issues driving the transition to a sustainable, positive-impact business ecosystem. NewCo Shift is defining a new approach to business journalism with content from notable writers and thinkers on the key issues impacting global business today. Join the NewCo Shift conversation online at Shift.NewCo.co or get our stories delivered to your inbox with the NewCo Daily and NewCo Weekly email newsletters. Watch our in-depth interviews with industry leaders in our NewCo Shift Dialogs video series, now filming a second season at the Nasdaq Entrepreneurial Center. New this November: Get Shift Done, a manual for the platformed economy, offering tips and tricks on using the latest Saas platforms, plus management best practices.
NewCo Festivals operate in sixteen cities around the world in North America, Asia, Europe and Latin America. They have the focus of a business conference, the feel of a music festival, and the model of an artist open studio. Participants choose which organizations they want to explore and then gather inside the company's home office, experiencing first-hand how these inspiring organizations drive purposeful transformation in their industries through authentic sessions hosted by founder and executive leaders.
About John Battelle
John Battelle has shaped the course of media and technology, first as a founding editor of Wired, then as the founder of The Industry Standard, and later as the founder of Federated Media Publishing (later sovrn). Over the past three decades, John Battelle has convened dozens of industry-leading executive events centered on the intersection of technology, business, and culture, including the Internet Summit (with Mary Meeker and Bill Gurley), Foursquare (with Steven Rattner), Signal (with Marc Pritchard) and the Web 2 Summit (with Tim O'Reilly). Widely respected as one of the best interlocutors in the business, Battelle's intimate, deeply researched conversational style engages and challenges speakers and audiences alike.