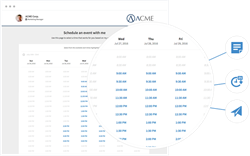 As any recruiter or hiring manager knows, scheduling a job interview often takes more time than the interview itself. Our new scheduler eliminates the back-and-forth of picking a time that works for both parties. - Josh Tolan, CEO of Spark Hire
Northbrook, Illinois (PRWEB) December 06, 2016
Spark Hire (https://www.sparkhire.com), the world's fastest growing video interviewing platform, is launching its new online scheduling tool to make it easier and more efficient to set times to interview candidates for open positions. The new feature is an addition to their current video interviewing services and will be available in beta to all current Spark Hire users.
"As any recruiter or hiring manager knows, scheduling a job interview often takes more time than the interview itself," said Josh Tolan, CEO at Spark Hire. "Our new scheduler eliminates the back-and-forth of picking a time that works for both parties. You email a personalized link and candidates select which open times in your schedule also works for them."
Customers who received early access to the interview scheduling software are using it to schedule phone and in-person interviews, along with other meetings. In addition, the tool is tightly integrated with Spark Hire's live video interviewing platform.
The user-friendly interview scheduling software also offers the following features:

Connects with existing calendars on Google, iCloud, Office 365, Exchange, and Outlook.com
Automatically accounts for differences in timezones
Bulk scheduling of interviews
Customizable events, meaning the scheduler can also be used for meetings, phone calls, and more
"We're very excited to launch this new feature, as it's a game changer for our customers," Tolan added. "Our early adopters are seeing some huge time savings."
For more information about the interview scheduling tool, visit sparkhire.com
About Spark Hire:
Spark Hire, the world's fastest growing video interviewing platform, delivers robust and affordable online video interviewing solutions for employers and staffing firms. Since its launch in early 2012, Spark Hire has helped 3,000+ organizations eliminate phone screens, streamline recruiting efforts, and gain more insight into candidates. Learn more on sparkhire.com.