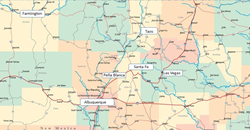 "All patients and their loved ones in the state will benefit from this project. It will connect patients to other patients." - Joyce Gonzales, CCM survivor and Angioma Alliance researcher.
NORFOLK, Va. (Dec. 3, 2016) (PRWEB) December 07, 2016
Angioma Alliance (http://www.angioma.org), the nation's only patient advocacy nonprofit for individuals impacted by cerebral cavernous angiomas, was awarded a grant from the Julian Grace Foundation to increase its outreach work in New Mexico with a patient engagement program. New Mexico has more people with cavernous angioma than anywhere in the world. Most share a common ancestor, believed to be Cristóbal Baca and his wife Ana Maria Pacheco Ortiz.
This one-year $50,000 award allows the organization to create a program of engagement which will help common descendants find each other. According to Connie Lee, president and CEO of Angioma Alliance, the goal of the program is to improve healthcare outcomes in the cavernous angioma population and increase research participation in clinical drug trials in the state, while fostering a sense of community among those affected. Currently there are no non-surgical treatments for those suffering from cavernous angiomas or malformations (CCM).
"We're honored to be able to serve these families in New Mexico," Lee says. "Thanks to the Julian Grace Foundation's generous support, Angioma Alliance will be able to begin the critical process of engaging this traditionally underserved population. The award will allow us to identify pockets of descendants using genealogical research and outreach to community leaders, contact families, and foster bonds in the community."
For the New Mexico community, the launch of the program is an answer to long-unfulfilled needs. "The award to Angioma Alliance offers new hope for children and adults affected by CCM in New Mexico," says Joyce Gonzales of Santa Fe, New Mexico, a CCM survivor and Angioma Alliance volunteer who has spearheaded 10 year of genealogical research on the origin of the Common Hispanic Mutation. "All patients and their loved ones in the state will benefit from this project. It will connect patients to other patients, offering a road map to a better quality of life through education and connection to the medical community."
The graphic illustrates the areas of the state believed to have the largest concentration of affected families. The award will allow Angioma Alliance foster a cohesive community in the under-served Hispanic population at risk for CCM. This community will be equipped to provide mutual support in the face of the challenges of a CCM diagnosis, thereby reducing stigma and fear, and increasing the likelihood of medical and research engagement.
About Angioma Alliance and Cavernous Angiomas
Angioma Alliance's mission is to inform, support and empower individuals affected by cavernous angioma and drive research for better treatments and a cure. Its mission is achieved through a variety of programs, including peer support, patient advocacy, a DNA/tissue bank to provide materials for the medical community, an Annual International Scientific Meeting and direct support of research that will lead to non-invasive cures for CCM.
Cavernous angiomas affect 1 in 500-600 people, or approximately 0.2% of the population, with symptoms such as hemorrhage, seizures, motor problems, memory problems and muscle weakness.