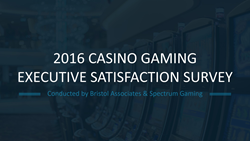 "The amount of job opportunities within the casino industry has increased as of late, however the market is still extremely competitive." -- Ben Farber, President, Bristol Associates
LOS ANGELES, CA (PRWEB) December 06, 2016
Bristol Associates (http://www.bristolassoc.com), an executive search firm, today announced the results of its 2016 Casino Gaming Executive Satisfaction Survey. The survey provides feedback from executives concerning their job satisfaction, outlook on the industry, as well as the top employers in the industry. This year, the survey garnered over 1,300 responses from executives nationwide -- the highest number of participants since the survey's inception 16 years ago. Participants represent a sampling of casino and gaming executives from across North America and are diverse in terms of geography, executive responsibilities, years of experience and other meaningful criteria.
Conducted in cooperation with Spectrum Gaming (http://www.spectrumgaming.com), the survey includes rankings of the top 15 Gaming Employers of Choice, assesses Gaming Executive Career Optimism, and measures which regions respondents feel offer the greatest opportunities for advancement.
Highlights from the 2016 Casino Gaming Executive Satisfaction Survey:

Two gaming operators, Seminole Hard Rock (last year's favorite) and Penn National (the 2014 front runner) have tied for first place in Employer of First Choice
Base compensation ranks highest in assessing overall job satisfaction
For higher-paid executives, corporate culture and stock grants take precedence over base compensation
Lesser-paid executives are more focused on personal advancement and a presumed goal of a salary increase
Respondents with over five years of experience report a lower rate of job contentment than those with fewer than five years
Weather and location are sacrificed to more important goals of career advancement and a salary increase
Asked to address the chart of weather and location in job satisfaction, Bristol Associates' Ben Farber offers a possible explanation:
"The amount of job opportunities within the casino industry has increased as of late, however the market is still extremely competitive. As a result, many of the executives we have placed this year have sacrificed weather and lifestyle in order to rise in the ranks and obtain a higher salary."
Click here to see the complete results of the 2016 Casino Gaming Executive Satisfaction Survey.
Methodology:
Gaming industry executives from across the country participated and all individual responses are kept confidential. Spectrum Gaming Group has analyzed the results and published them in a white paper available to subscribers of its Spectrumetrix™ publications, and participants in the survey will again receive a complimentary copy of the results. Results of the survey can be found at http://www.bristolassoc.com and at http://www.spectrumgaming.com.
About Spectrum Gaming Group:
Spectrum Gaming Group is an independent, full-service international gaming research and professional services firm. Through its staff and global network of affiliates and associates, it employs renowned experts in every facet of the gaming industry, from research to regulation.
About Bristol Associates, Inc.:
Bristol Associates, founded in 1967, has well-established, successful search practices in casino gaming, hotel, restaurant and travel. The Casino Gaming Division finds top executive talent for leading casinos nationally and worldwide. It has successfully completed hundreds of assignments using extensive industry knowledge and a comprehensive database. The experienced casino recruiters include Vice President Steven Kessler and President Ben Farber.