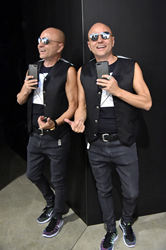 I am quite surprised at how much business was done this year. It is a positive sign that our economy is growing. We owe Madonna a debt of gratitude, for not only Raising Malawi, but also increasing the cultural significance and relevance of Art Basel
Miami Beach, FL (PRWEB) December 05, 2016
On Saturday night, (December 3, 2016), one of America's top art brokers Jimmy D Robinson arrived in style at Art Basel in Miami Beach. The "Million Dollar Broker," as some refer to Robinson, stepped out of his shiny new Bentley and began his quest to hobnob with the art world elite and judge this year's artworks on display. The Art Basel Miami Beach event has been welcoming Robinson into the fold year-after-year while fortifying his business, even during economic slow times. For nearly 15 years, Robinson has been cultivating and promoting young artists, as well as handling established artists' coveted works while brokering sales with astute clients. View Getty Images of Jimmy D Robinson attending Art Basel
"Art Basel is extremely important for so many of us in the art world. Experiencing what is on display at 'The Basel' keeps my tastes and roster current, so I can provide my art brokerage clients exactly what it is they are seeking to purchase," states Robinson. "My favorite thing about the international affair is meeting new people—the inspired artists, driven art dealers, and eccentric museum reps. It is all exciting, really."
At the Art Basel Miami Beach VIP preview there was a deep mood and serene feeling in the air at the convention center. However, many big deals were in motion. Robinson capped his very busy week of exploring and brokering by taking time out to enjoy a few of the exclusive soirées with both well-heeled and avant-garde friends.
Robinson stated, "I am quite surprised at how much business was done this year. It is a positive sign that our economy is growing. We owe Madonna a debt of gratitude, for not only Raising Malawi, but also increasing the cultural significance and relevance of Art Basel by producing Tears of a Clown during the fair. We've seen a lot of new buyers and sellers in town. Madonna's rich performance and charity event was remarkable!"
Often, Robinson comes across art pieces, which he previously brokered at Art Basel. The items have changed hands and have mostly increased in value and pricing. Analyzing the market, providing above-and-beyond service, and having an excellent memory, is all in a day's work for the successful art dealer. Jimmy D Robinson, Inc. is always on the hunt for great art and sculptures to broker to clients, corporations, and museums worldwide. Some of his most prominent transactions have included brokering deals for Schlotzsky's Bagels Corporation, well-known movie stars and celebrities, Baskin Robbins, rare paintings from The Marcus Collection, and the rarest works at the Royal Palace in Haiti. Robinson's standout deals include the selling of great works by Frank Stella, Matin Johnson Heade, Adolph Gottlieb, Lee Ufan, Kim Tschang-Yeul, Henry Moore, Pablo Picasso, Guillermo Kuitca, and Lynn Chadwick.
"It is never dull," adds Jimmy D Robinson, who lives half of his time is Rio de Janeiro, Brazil, where he keeps a second home. "'The Basel' is the best event of the year in my book. It helps me to keep on dreaming and allows me to continue helping others make impressive connections in the art world."
Jimmy D Robinson's large pool of affluent buyers, have come to respect his judgment, integrity and his honesty. Robinson deals paintings as low as $1000 to multi-million dollars art pieces. To guard against counterfeit and lithograph sales, Jimmy works with consummate art specialists to double and triple check the authenticity of the artwork being brokered, so that buyers are confident they are purchasing an authentic piece. "I guarantee all sales and deals. I do my business my way and my trusted reputation is everything," states Robinson. "Paying people as agreed upon immediately is a large part of keeping my clients happy. The buyer receives the art immediately after the seller receives payment."
And that is Jimmy D Robinson's "Art of the Deal!"
For serious inquiries please visit Artnet to learn more about Jimmy D Robinson's services.