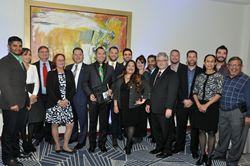 "This delegation visit to Mexico centered on fueling our economy, expanding access opportunities for our members and reinforcing our deep cultural ties with Texas' most prominent trading partner." Mark Madrid, GAHCC President & CEO
Austin, Texas (PRWEB) December 05, 2016
The Greater Austin Hispanic Chamber of Commerce (GAHCC) completed a six-day, five-city economic delegation visit in Mexico to promote a robust business and cultural exchange between Greater Austin and Mexico. Delegation stops included Guadalajara, Zapopan, Mexico City, Monterrey and Saltillo. The GAHCC had a primary role in every city, including CEO and President Mark Madrid's remarks in each city and the brokering of B2B matchmaking sessions. Austin Mayor Steve Adler, the City of Austin Economic Development Department and the GAHCC worked hand-in-hand to coordinate all aspects of the ambitious visit.
"Whether in the halls of the White House, Congress, state capitols or corporate headquarters, the Greater Austin Hispanic Chamber of Commerce places the Hispanic business community at the forefront of our nation's economic agenda," Mr. Madrid stated. "Also, we strongly encourage forming sustainable international business partnerships with allies across all borders. On the top of that list is Mexico. Mexico is rich with incredible talent, an innovative spirit and a cultural legacy that runs deep and touches many of us at the GAHCC. It is clear to me that while we may be separated by borders, in a very real sense, our countries are inextricably bound. We are energized and blessed to be one of the first international business delegations visiting Mexico post-election, which symbolizes our unwavering dedication to international commerce and exchange. It makes perfect business sense. Anything we do has to benefit our tremendous GAHCC members. In this case, we continue to cultivate import and export options to bolster business and tooled-up opportunities for our members to exchange technology, talent and innovation with our friends in Mexico."
Members of the Greater Austin business delegation included Madrid and Senior Director of Small Business and International Initiatives Vicky Sepulveda, as well as elected officials and business leaders. Additional delegates included: Austin Mayor Steve Adler and the mayor's wife; Diane Land of DT Land Group; Austin Council Member Pio Renteria and his wife Laurie; Dax Patton of SXSW; Jesus Salas of CodersLink; Jean Carlos Carrasquel of OnRamp; Patricia Del Rincon of Keller Williams Realty; Nick Barreiro of Clay Imports; Donovan Miller of Capital Factory; Matt Swinney of Fashion X; Elizabeth Mims of the Austin Film Festival; Guadalupe Barragan of Casa Chapala, economist Angelos Angelou and David Colligan, manager of the city's global business expansion division. Mayor Steve Adler and City Council Member Pio Renteria spearheaded initiatives to strengthen the economic alliance between Austin and Mexico and to combat climate change.
While in Guadalajara, the GAHCC, in partnership with TXMX, hosted a business exchange with IPADE Business School, acknowledged by Forbes as the best option for an MBA in Latin America. Austin delegates had the opportunity to launch matchmaking and networking efforts for trade, cross-collaboration and business. TXMX is an innovative organization based in Austin that has championed regional bridge-building initiatives with Mexico based on free trade, equality, collaboration and respect. Additionally, GAHCC member iTexico hosted an executive breakfast that featured a presentation on near-shoring strategies, the IT infrastructure in Mexico and the company's international positioning. TXMX and iTexico served as hosts in Guadalajara.
The GAHCC joined the Austin Convention Visitor's Bureau (ACVB) in Mexico City to promote Austin as an appealing tourism and commerce destination for Mexicans. Austin Mayor Adler, CEO Madrid, Ambassador Antonio Garza and Lourdes Zahos from the ACVB addressed a multinational business audience. Additionally, the GAHCC and the delegates met with the Bank of Mexico, embarked on B2B private meetings, visited the Hacedores Maker's Space and attended a Creative Industries Reception hosted by the GAHCC. Sylvia Orozco from Austin's Mexic-Arte Museum served as the host for Mexico City.
In Monterrey, the delegation hit the ground running with a compelling presentation at the University of Texas at Austin Center for Global Innovation and Entrepreneurship. Next, the delegation swapped best demonstrated practices and engaged in business matchmaking sessions at the Tecnológico de Monterrey. The Monterrey trip was capped off with a presentation by Rogelio De los Santos on the strategic direction of Tecnológico de Monterrey. Guadalupe Barragan and TXMX were the hosts for Monterrey.
The delegation ended the Mexico visit in Saltillo, Austin's oldest Sister City. Saltillo city officials discussed the industrial superiority of their region and the Austin delegates engaged in sector matchmaking sessions, which addressed the shared interest to expand bilateral investment between the Sister Cities. Billy Web and Nick Barreiro served as Saltillo hosts.
"At the GAHCC," Madrid added, "we are transforming business and leadership and producing tangible results. This delegation visit to Mexico centered on fueling our economy, expanding access opportunities for our members and reinforcing our deep cultural ties with Texas' most prominent trading partner. This visit was all about collective impact, a productive joint future and, ultimately, about fortifying economic and cultural bridges that link our remarkable Austin with Guadalajara, Zapopan, Mexico City, Monterrey and Saltillo. Additionally, the GAHCC is proud to have contributed toward the recent nonstop services from Austin to Guadalajara and Mexico City via Volaris and Aeroméxico, respectively. Once again, the Greater Austin Hispanic Chamber of Commerce is stepping up and taking action, which is our standard of excellence."
For media enquiries, contact Conchie Fernández-Craig, CF Creative. info(at)cf-creative.com or (954) 448-7590.