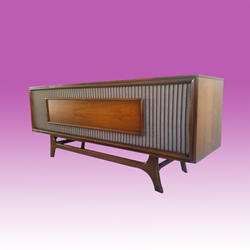 This whole process was GREAT from initial contact to completion. Steve is really passionate about this process and it shows in the quality. I love this console and am already thinking about another. Sounds great.
Fort Collins, CO (PRWEB) December 14, 2016
A few years ago, Steve Rondeau was cleaning out his garage in Colorado when he came across a vintage stereo console from the 50's or 60's under some boxes. Noting its beauty as a piece of furniture, Steve suddenly had a thought. What if the dusty old components from half a century ago could be removed and replaced with modern high-end electronics?
Setting to work, Steve gutted the console and began ordering modern top of the line stereo components, amplifiers, speakers, bluetooth, turntables and all the wiring and electronics that would eventually transform his antique stereo cabinet into a Midcentury Modern work of art- that can peel the paint off the walls when it's cranked up!
After receiving very enthusiastic positive feedback on the first prototype, Steve started Retro Mod Radio right there in his garage and set to work acquiring old consoles and re-amping them. He painstakingly transforms each console into an audiophile's dream come true, while preserving the classic vintage style and look of these fantastic stereo consoles from a bygone era. With the new serge and interests in vinyl records, the feedback from old and young alike has been overwhelmingly positive!
You can see all of them, and learn more about Retro Mod Radio's stereo consoles in their Etsy store.
As a holiday promotion, Retro Mod Radio is offering free shipping only until Jan 1st (a $550 value).
If there's an audiophile and/or midcentury modern/ vintage fan on your holiday shopping list, a fully restored and retrofitted vintage turntable stereo console might be the perfect gift!