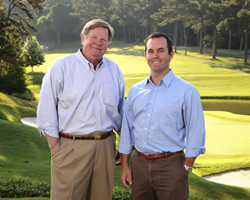 Reynolds Bickerstaff stated,"We are focused on our clients best experience with infinite opportunities in real estate."
Columbus, Georgia (PRWEB) December 05, 2016
Reynolds Bickerstaff and Allen Parham's vision for Bickerstaff Parham Real Estate, formerly Waddell Realty, is the culmination of over 50 years of combined experience in the Columbus real estate market. Serving clients in residential, commercial, and property management, this announcement is far more than a new building and logo change. The Bickerstaff Parham Real Estate team is charting a new direction in real estate, with innovation and enhanced services as their cornerstone.
As a locally owned company, the professionals at Bickerstaff Parham Real Estate have been firsthand witnesses to the growth and prosperity of the communities they serve. They have also been instrumental in fostering many of these advancements. Bickerstaff Parham Real Estate is focused on their client's best experience. They are recognized for an unmatched personal family touch and local heritage that many corporate competitors simply cannot match. The company is also heavily investing in leading edge technology to further empower their experienced agents and to better support their clients.
Dedicated leadership and a renewed commitment to the communities served are combined with talented brokers who provide exceptional services of the highest caliber. Reynolds Bickerstaff and Allen Parham are furthering economic development in the area with their new 'Home Office' and other investments to come. The initial vision behind Bickerstaff Parham Real Estate is now a reality; culminating in the launch of their 18,000 square foot state-of-the-art 'Home Office' located at 5547 Veterans Parkway, to be officially open for business on December 5, 2016.
The new 'Home Office' is beautifully designed and inviting. The entryway welcomes buyers and sellers to explore infinite opportunities in real estate. The new office includes a café, rooftop deck, and an 1,100 square foot covered breezeway that will make anyone feel "at home." The new Home Office invites consumers to explore these opportunities in one convenient location, with additional options that include ACOM's "Smart Home Showroom," a loan officer with Guaranty Mortgage, and an Interior Designer. Reynolds Bickerstaff commented on these local partnerships, "Our relationship with our clients is infinite. We offer services that extend the relationship beyond a real estate transaction. We help our clients live better in their homes."
Partner and Broker Allen Parham stated, "We are indeed fortunate to have a solid team of professionals who are progressive and forward thinking. Time tested leadership allows us to reinforce a strong presence across Greater Columbus and beyond." Whether the company is assisting a first time homebuyer, or the seasoned real estate investor, Bickerstaff Parham Real Estate's clients can count on intelligent counsel, honesty, loyalty, and responsiveness.
Bickerstaff Parham Real Estate carries forward a tradition of excellence dating back to 1985. Their team continues to grow, as well as their longstanding commitment to exceptional service. Bickerstaff Parham Real Estate invites the community to learn more by visiting http://www.BickerstaffParham.com or by contacting Bickerstaff Parham Real Estate at: 706.663.1400. For media inquiries contact G.W. Handal at prioritydesk(at)gwhdesigns(dot)com or 706.221.9586.