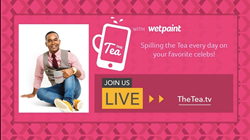 Wetpaint recognized the opportunity in video caller television and are using it to go beyond the usual, one-way celebrity talk TV formula in favor of something built from the ground up for social media savvy audiences." -Larry Thaler, CEO of The VCC
New York, NY (PRWEB) December 05, 2016
The Video Call Center today announced that Wetpaint, one of the leading social publishers focused on celebrity and entertainment news, has selected the VCC to partner on production of its new live, five-day-a-week, online gossip program, The Tea. Wetpaint parent company FunctionX also licensed patented technology and production services from the VCC. This paves the way for The Tea to take maximum advantage of the VCC video caller platform to tear down traditional talk show barriers to create a program that enables celebrities, audiences, and hosts to engage in compelling, unscripted, unexpected conversation.
The show will air weekdays at 3pm EST at http://www.wetpaint.com/video/series/the-tea/ On today's premier, Bravo's Real Housewives of Atlanta star, Sheree Whitfield, will join the show to "spill the tea" on her castmates, dig into the lasting impact of her iconic catchphrase "Who gon' check me, boo," and field questions from live video callers from the audience around the world via the VCC. The VCC's own Jeremy Hassel, a staple of celebrity talk programs from MTV to E! News, will host the show, bringing an electric personality and incredible energy to The Tea, and facilitating a natural, lively, conversation between today's hottest celebrities and their enthusiastic fans.
Wetpaint President & COO, Birame Sock said, "Wetpaint thrives on innovating social media. That drive is what makes the Video Call Center an exciting partner as we grow the Wetpaint live programming lineup. Wetpaint has been thrilled to be part of the VCC's underground online hit, OMGoss!p, for the last year. We believe now is the time for Wetpaint to push the format even further in its own unique way. The Tea leverages Wetpaint's celebrity relationships and highly engaged audience of more than 10 million fans to completely flip the script on entertainment TV, putting fans on air, no matter where they are, alongside their favorite bloggers and celebrities."
The VCC's platform is the foundation that enables content producers like Wetpaint to develop entire new forms of live programming. The VCC makes it possible to simultaneously connect multiple video callers from around the world—including viewers, celebrities and other guests—via their computers or smartphones and bring them all together in live, broadcast-caliber programs. VCC puts the host in direct control of the flow of the show and eliminates the requirement for an expensive TV control room, dramatically impacting the economics of live television production. Callers join live using any device and a choice from more than a dozen different IP video calling services, including Facebook Messenger, SkypeTM, FaceTime® and Gruveo (WebRTC). The VCC platform includes caller filtering and moderation features to ensure that only the most compelling and appropriate callers make it to air.
Video Call Center CEO Larry Thaler said, "Wetpaint is demonstrating remarkable foresight into what engagement really means for TV programs in today's socially-driven world. They've recognized the opportunity in video caller television and are using it to go beyond the usual, one-way celebrity talk TV formula in favor of something built from the ground up for social media savvy audiences. Wetpaint is the "go-to-place" for celebrities looking to reach an engaged millennial audience, making them the perfect partner for VCC as we explore this new genre. "
Wetpaint is well known for hosting various celebrities such as Eva Longoria, Terrence Howard, Michelle Williams, Nick Lachey, Elizabeth Hurley, Bethenny Frankel, Miss America, AKON, Lance Bass, Jackie Cruz, Juliana and Bill Rancic, The Chainsmokers, Snooki, Wendy Williams, Erika Christensen and Nene Leakes, just to name a few.
About The Video Call Center, LLC:
VCC is a technology and content development company devoted to handling large numbers of IP Video remotes-by-smartphone and putting them on the air through patented workflow and assistive automation. VCC licenses its software and provides caller acquisition and production services. VCC has produced hundreds of programs for the web through its Talk Center America platform, and dozens for the stations of co-owner TEGNA Media. VCC is jointly owned by Wolzien LLC and TEGNA, which is a significant investor and customer. More information at http://www.thevcc.tv
About Wetpaint:
With clever social packaging around killer entertainment content, Wetpaint has become a leader in social publishing with a celebrity hook. Every day the site showcases exclusive interviews, breaking stories, and our fangirl spin on the hottest news — all fueled by social media. By leveraging patented, proprietary social technology, Wetpaint drives the deepest form of engagement with its users—and gains new audiences virally through sharing. Wetpaint technology gives it the power to know what its audience wants and when, turning casual fans into true fanatics. That's how Wetpaint has become the leading social publisher for millennial women, with more than 10M Facebook fans, 13M monthly unique visitors, and 90M monthly page views.