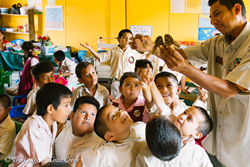 Responsible travel is something we deeply believe in, especially in regards to bringing people together and benefitting communities
San Ignacio, Belize (PRWEB) December 06, 2016
National Geographic's announcement of the finalists for the 2017 World Legacy Awards contained some very good news for Belize's The Lodge at Chaa Creek and the local communities it supports while highlighting the value of sustainable tourism and responsible travel, The Belizean eco-resort's owners said.
A December 1 2016 National Geographic media release praised the finalists for "showing the way forward to a brighter future for people and the planet" by "driving the sustainable tourism transformation of the global travel industry," an ongoing effort Mick and Lucy Fleming say has positive implications for the global travel industry as well as the future of the planet.
"All of us, from my family to each of our 160 staff members were thrilled to hear that Chaa Creek has been selected as a finalist for the World Legacy Awards. They are certainly prestigious honours but, more importantly, the awards promote responsible travel and show the way forward in fostering an industry that opens the world's natural beauty and culture to travellers in ways that actually benefit the environment and people.
"Responsible travel is something we deeply believe in, especially in regards to bringing people together and benefitting communities, so to be selected as one of three examples worldwide in our category is as humbling as it is exciting," Ms Fleming said.
The Lodge at Chaa Creek joins Thailand's Andaman Discoveries and Chambok Community Based Eco Tourism/Mlup Baitong in Cambodia as the three finalists in the "Engaging Communities" category of the awards.
Costas Christ, National Geographic Traveller Editor at large and the awards' chairman, said "With the United Nations Declaration of 2017 as 'The International Year of Sustainable Tourism Development', there is growing excitement about the transformation of the global travel and tourism industry in positive ways for people and the planet," and identified the question of "How far can we take sustainable tourism practices to usher in a brighter travel future?" as the year's most important topic.
The 2017 World Legacy Award (WLA) finalists are "part of this innovative travel transformation," he said.
An initiative of National Geographic and ITB Berlin created to honour companies, organisations and travel destinations driving this transformation, the awards are based on "three key pillars of sustainable tourism, including environmentally friendly operations, protection of natural and cultural heritage, and support for the wellbeing of local communities," according to the organisation's website.
The judges selected three finalists for each of five categories: "Earth Changers", "Sense of Place", "Conserving the Natural World", "Engaging Communities" and "Destination Leadership." Chaa Creek placed in the Engaging Communities category that recognises "direct and tangible economic and social benefits that improve local livelihoods, including training and capacity building, fair wages and benefits, community development, health care, and education."
The Flemings said they were particularly pleased that Chaa Creek stood out in this category, as it reflects over 35 years of working with local villages, communities and schools to ensure that all Belizeans and not just tourists and the travel industry benefitted from Belize's dramatic growth as a tourism destination.
"It's almost become a cliché to say that people are our most important asset, but we've always known that to be true. Belize is blessed with some of the most stunning natural beauty in the world, but at the end of the day it's the people who make living in and visiting Belize such a wonderful experience. Mick and I always recognised that, and always felt it important to contribute and give something back to the people and local communities that we've had such a close bond with all these years," Ms Fleming said.
In recognising Chaa Creek, National Geographic noted, "Belize's pioneer eco-resort demonstrates that putting local people first benefits employees, villages, and its own bottom line. The Lodge provides economic benefits to community projects across the nation, directing 10 percent of all room revenue to support social and environmental programs.
"The Lodge sponsors an Environmental Outreach Program, a free Eco-Kids summer camp, a secondary school scholarship program, and internships for local high school and college students. Guests see traditional agriculture in action at the Lodge's organic farm, shop at riverside villages on canoe trips, and take craft and cooking classes at women's cooperatives. As a major employer, the Lodge has gained a stronger voice in influencing national policies to embrace sustainable tourism best practices," the judges noted.
Located within a 400-acre private nature reserve with accommodations ranging from luxury suites to a rustic Macal River Camp, amenities that include a restaurant and lounge featuring organic farm-to-table dining, an internationally recognised Hilltop Spa, Belize Natural History museum and activities such as horseback, mountain bike riding and nature walks along an extensive trail system winding though a jungle containing 70 recorded ancient Maya archaeological sites and temple, Chaa Creek, starting life as the Fleming's small family farm, has grown to become a major employer and trainer that supports the economy and culture of local villages and communities.
Ms Fleming said that bond with local communities was integral to how the eco-resort developed and has been key to Chaa Creek's success
"In one way it feels funny being recognised for just doing what comes naturally, but on the other hand, we're honoured if we can serve as a model for other resorts and the industry. We like to show that working closely with communities, especially in a developing nation like Belize, is not only intrinsically and morally right, but provides tangible benefits for everyone involved.
"That, to me, is a very clear example of the value of sustainable tourism and responsible travel," Ms Fleming said.
The World Legacy Awards winners will be announced at an international gala ceremony sponsored by National Geographic and ITB Berlin to be held 8 March 2017 in Berlin, and the Flemings said they'll be in attendance to represent Chaa Creek and Belize.
"Considering the quantity, quality and calibre of organisations and even entire cities and countries who nominated for these awards, being announced as one of the finalists is one of the highlights of our lives. Chaa Creek has been fortunate to receive many accolades and awards over the years, and this recognition, as a reflection on our entire staff and the communities we serve, is one that Mick, myself, our son and daughter and extended family will always treasure," Ms Fleming said.
The Lodge at Chaa Creek is a multi award winning eco resort set within a 400-acre private nature reserve along the banks of the Macal River in Belize.