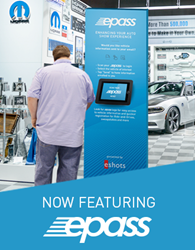 Our new, first-of-its-kind platform will allow brands to quickly and easily connect with potential customers, even if brand ambassadors are overwhelmed with crowds.
Chicago, IL (PRWEB) December 06, 2016
Experiential marketing technology provider, eshots, Inc., has announced a partnership with the Chicago Auto Show to dramatically improve the consumer experience and data capture at auto shows with its newly developed EventOS featuring epass. This platform will improve the auto show experience for consumers by centralizing registration across multiple show floor touchpoints. In the past, consumers have always been required to repeatedly enter contact information to get vehicle information, enter contests or sweepstakes, participate in test drives, and more. EventOS with epass will reduce the amount of time required to check in at multiple locations by centralizing the registration and check-in process.
Auto manufacturers and auto shows will benefit greatly from this innovative new platform. Potential customers were often lost because of line abandonment due to large crowds or times when brand ambassadors are unavailable, but using EventOS with epass, automotive brands will be able to connect with more consumers than ever. Consumers can request vehicle information from brand ambassadors or from kiosks located within each individual brand's space. This easy access to information is expected to drive a sharp increase in the number of consumer leads collected by participating auto brands.
The epass consumer experience will include:

epass kiosks onsite at the Chicago Auto Show for easy registration
Once a consumer registers, the QR code on the ticket will link the consumer's registration across multiple checkpoints, creating an epass
As a consumer enters an automaker's exhibition area, the epass will be scanned allowing previously entered information to be shared and avoiding the need to re-enter that same information in another display
Wait times will be shortened, contest/sweepstakes entry will be expedited, and product information will be delivered reliably, streamlining the consumer experience
Tickets purchased online will be activated on the epass platform once consumers scan in at their first epass location. All other ticketholders, including those who purchased theirs onsite at the box office, may register their ticket at any of the epass information towers next to the ticket windows or scattered throughout the Chicago Auto Show.
"By being out in the field every day with our clients, we realized that many automakers were missing out on millions of consumers every year because there simply wasn't enough time to connect with them. Our new, first-of-its-kind platform will allow brands to quickly and easily connect with potential customers, even if brand ambassadors are overwhelmed with crowds," said Craig Steensma, founder and CEO of eshots.
"We think that brands will really embrace this new tool once they experience the volume of new consumer leads easily generated while spending the majority of their time talking about the products. We also expect consumers will enjoy faster access to car info and less repetition entering their registration information at multiple points around the show floor," continued Mr. Steensma.
"The Chicago Auto Show has long been considered the nation's consumer auto show. As we look to the future, embracing digital communication for exhibitors and attendees is the next logical step in continuing America's love affair with the automobile," said 2017 Chicago Auto Show Chairman Mike McGrath. "The epass program is designed to improve attendee engagement and will not only help consumers connect with automakers, but better enable automakers to connect with consumers."
Visit the Chicago Auto Show and look for the epass logo to participate. For more information, visit http://www.ChicagoAutoShow.com or http://www.eshots.com/EventOS.
About ESHOTS
Founded in 1998 and headquartered in Chicago, IL, eshots is the leading consumer lead capture, engagement and conversion platform in the experiential marketing industry. We are at the intersection of event-related technology, services and marketing sciences designed to maximize a brand's ROI around consumer events. We help our clients set and benchmark event strategies, maximize consumer lead capture and track/convert those leads into sales. Our team of consultative account specialists helps our clients uncover actionable insights within a data-driven framework to assist them with making better event planning decisions across the entire life-cycle of the event. Our clients are many of the most respected enterprise brands in the world, including FCA, Ford, Lincoln, Mercedes-Benz, Mitsubishi, and Nationwide, to name a few. We helped our clients capture over 3 million consumer leads from over 25,000 event days in the last year alone.
Press Contact
Daniel Maurer
Marketing Manager
eshots, Inc.
312-253-1500
** Photos available upon request