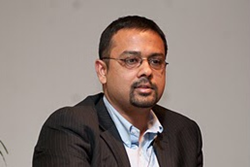 (PRWEB) December 07, 2016
Gephardt Government Affairs (GGA) announces strategic partnership with Vishal Verma, Partner of Edgewood Group. "We are excited to partner with Vishal on international outreach," said The Honorable Richard Gephardt, President/CEO of the Gephardt Government Affairs
Vishal has over 20 years entrepreneurial experience in Silicon Valley and South Asia. Vishal is a Senior General Partner at Edgewood Group. Edgewood is an investment firm focusing on investing in the USA and India. He has made investments or serves on the board of directors of Edgewood Networks, Edgewood CureAire, GammaScan, HAL – Edgewood, and HSMC.
Vishal holds a B.S. degree in Marketing from Santa Clara University and a Masters of Business Administration in Finance from the University Of Chicago Booth School Of Business.
"I am excited to work with Dick and the leadership team at GGA on the execution of our international strategy " Vishal Verma, Senior Partner Edgewood Group
ABOUT GEPHARDT GOVERNMENT AFFAIRS:
Gephardt Government Affairs ("GGA") is widely recognized as one of the most effective legislative strategy shops in Washington. GGA was founded on the belief that affecting public policy requires more than the ability to open doors, it demands policy expertise, strategic thinking and a deep commitment to achieving outcomes. Founded in 2007, the firm has provided strategic advice, government relations and issue management services to senior level executives, trade associations and coalitions across a spectrum of issues and industries.
Contact:
Tom O'Donnell
TomODonnell(at)gephardtdc(dot)com
Praveen Raj
Praveen(at)edgewoodvp(dot)com