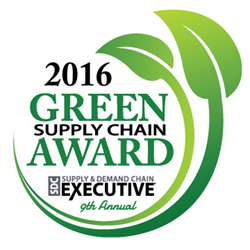 Managing a sustainable food chain comprised of a complex network of suppliers requires setting clear expectations and monitoring those standards. FoodLogiQ Connect helps you do just that." Dean Wiltse, CEO, FoodLogiQ
Durham, NC (PRWEB) December 06, 2016
Supply & Demand Chain Executive, the executive's user manual for successful supply and demand chain transformation, has selected FoodLogiQ as a recipient of an SDCE Green Supply Chain Award for 2016.
The Green Supply Chain Award recognizes companies making green or sustainability a core part of their supply chain strategy, as well as providers of supply chain solutions and services assisting their customers in achieving measurable sustainability goals. This year's ninth-annual awards recognize companies like FoodLogiQ that leverage green practices and solutions to further drive sustainable improvements in their supply chain.
"A key element to executing a sustainable food supply chain is ensuring that all of your supply chain partners are equally as committed to supporting your company's vision for sustainability," said Dean Wiltse, CEO of FoodLogiQ. "Managing a sustainable food chain comprised of a complex network of suppliers requires setting clear expectations and monitoring those standards. FoodLogiQ Connect helps you do just that."
FoodLogiQ enables companies like Whole Foods Market and the National Potato Council to gather, monitor and manage the sustainability practices of the suppliers within their supply chain. Within FoodLogiQ's SaaS software, FoodLogiQ Connect, food companies invite and onboard all of their suppliers into an online community. FoodLogiQ customers are then able to gather assessments of their suppliers, asking them a series of questions about a range of topics from animal and farmworker welfare, soil management, pesticide use and pest management to water conservation, energy use and greenhouse gases. Customers are also able to manage all of the agricultural product inputs and grower contracts through integrations with their existing ERP system.
Customers can also use the built-in audits within FoodLogiQ Connect to verify, either firsthand or through a 3rd-party auditing company, the sustainability practices of the suppliers in their food chain. This way, the company can continuously monitor for issues and proactively address issues related to noncompliance.
"Our honorees are showing that the bottom line and corporate responsibility are not mutually exclusive," says Ronnie Garrett, editor of Supply & Demand Chain Executive. "This has been increasingly evident over the past few years and is relatively clear with the large number of entries we received this year—almost 200—for our annual green awards. Sustainability has, for these companies, become a key part of their supply chain strategies."
About Supply & Demand Chain Executive
Supply & Demand Chain Executive is the executive's user manual for successful supply and demand chain transformation, utilizing hard-hitting analysis, viewpoints, and unbiased case studies to steer executives and supply management professionals through the complicated, yet critical, world of supply and demand chain enablement to gain competitive advantage. Visit us on the web at http://www.SDCExec.com.
About FoodLogiQ, LLC
FoodLogiQ® LLC is a leading SaaS provider of food safety compliance, traceability, and supply chain transparency software solutions. We help restaurant operators, food retailers and other food companies achieve end-to-end traceability while supporting safe and high quality food products across the supply chain. FoodLogiQ Connect is an online supplier community used by food companies to manage quality, safety, audit, regulatory compliance, sustainability and traceability needs across their supply chains. To request a demo, please visit http://www.FoodLogiQ.com/demo.