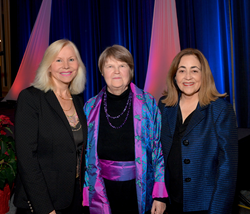 Virginia Littlejohn has been blazing trails in women's enterprise development since the 1970s.
Washington, DC (PRWEB) December 07, 2016
Three champions of women's entrepreneurship who have blazed paths for women in corporate procurement and science, technology, engineering and math (STEM) were inducted into the prestigious Women's Business Enterprise (WBE) Hall of Fame.
Virginia Littlejohn received the Trailblazers Award for spearheading a series of transformational initiatives in the United States and internationally. Littlejohn was one of the three primary architects of the Women's Business Ownership Act signed by President Reagan in 1988. She organized three global best-practice conferences on women's entrepreneurship for the Organisation for Economic Co-operation and Development in Paris and Istanbul in the 1990s and early 2000s. She currently serves as the Lead International Consultant for the Women and Trade program for the International Trade Centre, a joint agency of the United Nations and World Trade Organization in Geneva. She also serves as an American representative on the Women's 20 (W20) for the G20 countries.
Littlejohn is a co-founder of Quantum Leaps, Inc., which sees investing in women's entrepreneurship as a key strategy to grow the economy, and works to accelerate women's entrepreneurship both nationally and internationally. She serves as the organization's President for Innovation and Strategic Initiatives, which includes the incubation of FutureForward.
Jennifer Bisceglie, CEO of Quantum Leaps, says, "Virginia Littlejohn has been blazing trails in women's enterprise development since the 1970s."
In addition to her lengthy list of achievements, Bisceglie says, "Virginia also conceptualized and provided the initial incubation for the Global Banking Alliance for Women, and incubated WEConnect International. With FutureForward, she's focused on engendering women entrepreneurial innovation."
The American Institute of Diversity and Commerce hosted the Hall of Fame awards in Dallas, Texas, Nov. 29. Ten were inducted, including Quantum Leaps supporters Joan Kerr and Carmen Castillo.
Joan Kerr, Director, Supply Chain Responsibility for Pacific Gas and Electric Company (PG&E) in San Francisco, accepted the Hall of Fame's Corporate Leadership Award this year on behalf of PG&E. Kerr is a corporate advisor for Quantum Leaps' FutureForward initiative, and counsels the organization on the cutting-edge products and services that women suppliers need to provide to meet the innovation needs of corporate value chains.
"The acceleration of innovation is changing how all corporations operate and what they procure," Kerr says. "From renewable energy and smart grid, to the internet of things, advanced robotics and cloud computing – corporate spend is pivoting and we need WBEs at the forefront of providing these new products and services."
Carmen Castillo, President, SDI International in Fort Lauderdale, Florida, received the WBE Award. She is a member of FutureForward's Inner Circle advisory group of high-growth women-owned businesses. SDI is an award-winning supplier that provides full lifecycle business process outsourcing and managed services with deep expertise in small supplier, non-critical, tail-end spend. The company operates Centers of Excellence in Argentina, Belgium, Canada, China, India, Slovakia, the UK, and the US.
"I work tirelessly with councils and organizations that support women's entrepreneurship, worldwide, for many reasons," Castillo says. "We need to continue to make a push for STEM education and business development for WBEs, to make us even more competitive while doing business across borders."
Quantum Leaps, Inc. is a global accelerator for women's entrepreneurship based in Alexandria, Virginia. It works with governments, international institutions, and women's business associations to promote women's entrepreneurship as a means of driving quantifiable economic growth at the national, regional, and global levels.
FutureForward is an initiative that Quantum is currently incubating. Its mission is to close the innovation gap between men and women, double the number of women on the leading edge of next generation innovation within five years, and ultimately achieve gender parity in innovative entrepreneurship.