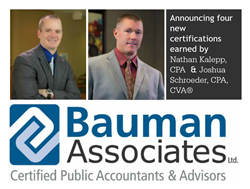 Eau Claire, WI (PRWEB) December 08, 2016
Bauman Associates is proud to announce new certifications for two of our team members. Comprised of many seasoned and talented individuals who play critical roles in serving clients, our firm continues to grow their depth of service by supporting our CPAs in their endeavors to obtain advanced certifications.
Nathan K. Kalepp, CPA & Principal at Bauman Associates recently received the Advanced Defined Contribution Plans Audit, Advanced Health and Welfare Plans Audit and Advanced Defined Benefit Plans Audit certifications from the American Institute of CPAs (AICPA). Nathan and Bauman Associates are among only a handful of CPAs and firms in the area to receive these certifications. These recognitions demonstrate Nathan's commitment to performing the highest quality employee benefit plan audits. In addition to these advanced certifications Nathan also holds the Fraud Examiner certification. Read more about Nathan and Bauman Associates here.
Joshua Schroeder, CPA & Manager at Bauman Associates obtained the Certified Valuation Analyst (CVA) designation by the National Association of Certified Valuators and Analysts (NAVCA). "The CVA designation is an indication to the business, professional, and legal communities that recipients have met the rigorous standards of professionalism, expertise, objectivity, and integrity in the field of business valuation, financial consulting and litigation, and related consulting disciplines." Josh confidently provides valuation services for businesses during buy/sell situations and tax, gift and estate sale issues. Read more about Joshua and Bauman Associates here.
Both Nathan and Joshua spend a great deal of time speaking and educating around these specialty fields. Their commitment to local businesses of the Eau Claire, Hudson and River Falls areas of Wisconsin will be on display at Bauman Associates annual event, Protecting Your Business. To learn more about Business Valuations, Exit Strategies and Fraud, please register to attend.
About Bauman Associates, Ltd
Bauman Associates was founded in 1947 as a certified public accounting firm and has offices in Eau Claire and Hudson, Wisconsin.  The firm provides multi-discipline professional services to businesses and individuals including business consulting; technology training; human resource consulting; tax strategy, planning and preparation; accounting and auditing services; and estate, trust and retirement planning. For more information, visit http://www.baumancpa.com or call 888‐952‐2866.