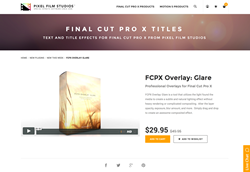 FCPX Overlay Glare is a tool that utilizes light found in the media to create a subtle but natural lighting effect without heavy rendering or complicated compositing
Aliso Viejo, California (PRWEB) December 05, 2016
"FCPX Overlay Glare is a tool that utilizes light found in the media to create a subtle but natural lighting effect without heavy rendering or complicated compositing," said Christina Austin - CEO of Pixel Film Studios.
FCPX Overlay Glare utilizes the light within media to create an organic spectrum of lights that simulates the look of a glare. Just drag and drop to create a beautiful looking overlay every time. To use FCPX Overlay, simply drag the title preset above pictures or videos in the FCPX timeline. Stretch the preset to the fit any clip duration.
FCPX Overlay Glare offers a variety of blend mode options for users to choose from. Blend modes such as "add" or "lighten" will create a naturalistic lighting effect. Blend modes such as "soft light" and "overlay" can be used to enhance the darks & whites in the footage. For a moodier feel, try "multiply" or even "darken."
Customize the overlay lighting with FCPX Overlay Glare using simple slider controls that can be found in the inspector menu. Use the blur amount, opacity, and blend modes to properly composite the overlay. With exposure and prism amount, video editors can add imperfections to simulate natural light. Lastly, utilize the rotation dial to change the direction of the lighting.
FCPX Overlay Glare is the quickest and easiest beautiful overlay in Final Cut Pro X. Leave time consuming compositing techniques behind and embrace the drag and drop ease of Pixel Film Studios overlay plugins. Pixel Film Studios makes amazing easy in Final Cut Pro X.
Established in 2006, Aliso Viejo, California-based Pixel Film Studios is an innovative developer of visual effects tools for the post-production and broadcast community. Their products are integrated with popular non-linear editing and compositing products from Apple FCPX. Apple, the Apple logo, Mac OS X, and Macintosh are registered trademarks of Apple Inc. in the U.S. and/or other countries. All other trademarks and trade names are the property of their respective owners.