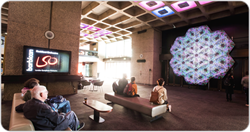 Christie's cutting-edge hardware and software will help animate the public spaces of our iconic building and help us to deliver outstanding art in the foyers for free
Wokingham, England (PRWEB) December 06, 2016
Christie® has signed a wide-ranging, long-term partnership agreement with the Barbican Centre in London to provide leading visual technology solutions to the world-class arts and learning center. The partnership will transform the public spaces of the Barbican by providing new platforms for its rolling program of artistic commissions and new focal points to communicate with the public. Christie will supply the latest laser phosphor projection, LED video walls, as well as Christie® MicroTiles® and Christie Pandoras Box media servers. The displays will be seen at entrances, across the foyers and at key points throughout the building. As part of the partnership, Christie will have access to meeting rooms and conference facilities to host partners and clients.
To coincide with this new partnership, the Barbican is holding an open call for artists, collectives and designers across all disciplines to create a projected artwork that responds to the phrase 'What's going on here, then?', find out more about the open call out here.
Sir Nicholas Kenyon, Managing Director of the Barbican said, "We're delighted to be announcing this new partnership with Christie today. Christie's cutting-edge hardware and software will help animate the public spaces of our iconic building and help us to deliver outstanding art in the foyers for free. Our foyers have already housed innovative light sculptures, digital installations and audio journeys by both emerging and established artists. We're extremely excited to now be launching an open call and look forward to receiving bold, dynamic and imaginative submissions."
Already, with the initial installation of four laser phosphor projectors in the main foyer, the Barbican's vision to animate its public spaces, engage audiences and support artists working in non-traditional art forms has gained traction with the public.
Since summer 2016, Christie laser phosphor projectors, powered by Pandoras Box, have illuminated two separate installations in the foyers. Numen, by artist Zarah Hussain, uses two Christie HS Series laser phosphor projectors.
Numina is a vast hexagonal grid illuminated with projection mapped geometric patterns that draw from traditional Islamic art. The bright projection onto a 3D sculpture is attracting significant attention both in person and across social media. A second installation, 'let's take a walk' by theater collective 'non zero one,' greets visitors with projections of six individuals who guide visitors on an audio journey around the Centre. The projection lights up a wall on the Ground Floor foyer using two Christie GS Series projectors and an amazing sight line, drawing visitors in and engaging them with the interactive tour.
The partnership underlines the ongoing and ever-evolving nature of the relationship between technology providers and content creators. As Simon Smith, Christie's Vice President of EMEA commented, "Christie's mission is to provide the world's best shared experiences. Technology and content go hand-in-hand and we appreciate working alongside artists who can provide fantastic content that make those shared experiences so memorable. For us, the partnership with the Barbican represents a collaboration that brings our technology together with artists under the global spotlight. It is a wonderful opportunity not only for emerging artists to create new works but also for thousands of visitors to engage with the Barbican and all it offers as a leading arts venue. We are delighted by the feedback we have had so far from the first installations that have been shown."
The partnership also allows the Barbican to communicate and interact with visitors in new ways. Over the coming months, 28 Christie Velvet 3mm LED tiles will be installed above the main entrance in Silk Street, welcoming visitors with customized messages from content supplied by the Barbican, tailored to the 7-meter wide LED configuration. At three other key points, HS Series projectors – which can project in portrait mode – will also display the Barbican's content.
James Belso, Senior Sales Manager for the UK, worked with the Barbican team to help plan and advise on how the technological requirements for the brief could be met. "Working with the concept of the Barbican providing bespoke content in specific formats was one of the interesting aspects of the planning process," said Belso. "Christie 360, our content agency, advised on content creation. The partnership does not just include our display technology but also what is driving those displays, namely that all content is being stored and played out on Christie Pandoras Box. From our perspective, the Barbican is a fantastic location in the heart of the City of London. It's not only a leading arts organization but a venue where people come to relax and spend time."
About the Barbican
A world-class arts and learning organisation, the Barbican pushes the boundaries of all major art forms including dance, film, music, theatre and visual arts. Its creative learning programme further underpins everything it does. Over 1.5 million people pass through the Barbican's doors annually, hundreds of artists and performers are featured, and more than 300 staff work onsite. The architecturally renowned centre opened in 1982 and comprises the Barbican Hall, the Barbican Theatre, The Pit, Cinemas One, Two and Three, Barbican Art Gallery, a second gallery The Curve, foyers and public spaces, a library, Lakeside Terrace, a glasshouse conservatory, conference facilities and three restaurants. The City of London Corporation is the founder and principal funder of the Barbican Centre.
The Barbican is home to Resident Orchestra, London Symphony Orchestra; Associate Orchestra, BBC Symphony Orchestra; Associate Ensembles the Academy of Ancient Music and Britten Sinfonia, and Associate Producer Serious. Our Artistic Associates include Boy Blue Entertainment, Cheek by Jowl, Deborah Warner and Michael Clark Company. International Associates are Royal Concertgebouw Orchestra of Amsterdam, New York Philharmonic, Los Angeles Philharmonic, Gewandhaus Orchestra Leipzig and Jazz at Lincoln Center.
About Christie
Christie Digital Systems USA, Inc. is a global visual and audio technologies company and is a wholly-owned subsidiary of Ushio, Inc., Japan, (JP:6925). Consistently setting the standards by being the first to market some of the world's most advanced projectors and complete system displays, Christie is recognized as one of the most innovative visual technology companies in the world. From retail displays to Hollywood, mission critical command centers to classrooms and training simulators, Christie display solutions and projectors capture the attention of audiences around the world with dynamic and stunning images. Visit http://www.christiedigital.com.
Follow us:
Twitter.com/christiedigital
Facebook.com/christiedigital
Linkedin.com/company/christie-digital-systems
Youtube.com/christiedigital
Instagram.com/christiedigital
#christiedigital
"Christie" is a trademark of Christie Digital Systems USA, Inc., registered in the United States of America and certain other countries.
DLP® is a registered trademark of Texas Instruments