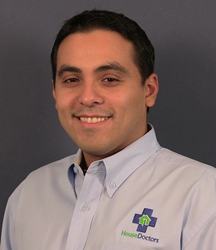 Our insured, bonded, clean, uniformed and multi-trade experienced technician can handle a wide variety of projects to keep your home in excellent condition.
Miami, FL (PRWEB) December 05, 2016
When Manuel Tinjaca decided he wanted to open a small business in the United States, he knew he wanted something his family could grow from the ground up while offering a handyman service that will make life easier for the residents of Miami. Now Tinjaca is proud to announce that his dream is coming true with the launch of his new business – House Doctors of Miami North.
The team at House Doctors is focused on professionalism, service excellence and quality workmanship. Their goal is to make home improvements easier for their customers by being on time, doing the job right and offering a one year workmanship guarantee. House Doctors of Miami North offers professional handyman services in Aventura, Sunny Isles Beach, North Miami Beach, Gold Beach, Hollywood, Hollywood Beach, Dania Beach, Southern Fort Lauderdale, Davie, Cooper City, Pembroke Pines, Pembroke Park, Miramar, Miami Gardens, Hallandale Beach and Ojus.
"When you call House Doctors, you'll be surprised by how quickly and easily we can complete the repair projects on your to-do list. And you don't have to worry about calling different specialized contractors to manage all the needs of your home – with House Doctors, our insured, bonded, clean, uniformed and multi-trade experienced technician can handle a wide variety of projects to keep your home in excellent condition," Tinjaca said.
Tinjaca brings a strong business, operations and customer service background to House Doctors of Miami North. He studied materials engineering at Simon Bolivar University and then he worked as the vice president of his father's mattress manufacturing and retail business in Venezuela. His responsibilities in that role including managing the production department and maintaining the company's inventory by working with domestic and foreign suppliers, supervising the distribution and retail arms of the company, overseeing the company's marketing and advertising campaigns and working directly with VIP customers and large retail stores. He also had a large role in managing the administrative staff and representing the company throughout the community.
"My wife and I wanted to own our own business and we were looking for an opportunity to make that happen. When we came across House Doctors, we knew it would be a great fit because it allowed me to take advantage of my entrepreneurial experience while providing a much needed service in this community," Tinjaca said.
House Doctors' handymen technicians specialize in projects that take two hours to two days to complete, such as light remodeling and repairs of decks, doors, bathrooms and kitchens; repairing drywall; painting; exterior repairs; making home modifications and much more.
"House Doctors is different because we hire experienced, professional technicians who are ready to help with large and small jobs in order to meet our customers' needs. Other companies who hire professional technicians are often focused on bigger, more complex – and more expensive – work and that's not always what you need," he added.
To learn more about House Doctors of Miami North, call (786)916-3934, email hd539(at)housedoctors(dot)com or visit http://www.housedoctors.com/handyman-miaminorth.
About House Doctors
House Doctors Handyman Service has been helping homeowners across the United States with home repair and light remodeling projects for more than 20 years. Our friendly, insured and bonded craftsmen are scheduled to be there on time and are committed to complete customer satisfaction. Each of our technicians are experienced in home maintenance, product installations and a variety of home improvements. We're so confident in our team and products that every job we perform comes with a one-year guarantee.