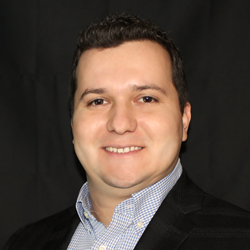 Santa Rosa, California (PRWEB) December 06, 2016
i2i Population Health, a national leader in population health management (PHM) technology, has named Ajdin Camaga as a vice president of sales.
"Ajdin understands that building a successful sales culture is about building relationships, says Justin Neece, president. "He works hard to understand what each client needs, and is persistent in building towards a solution that works for everyone involved. His energy and enthusiasm, and experience with NextGen and clinical workflow solutions and will be critical for us as we deliver on the promise of meaningful population health."
At i2i, Camaga is responsible for driving significant growth in the provider and independent delivery network market segments.
Most recently, Camaga was the sales director for Nashville-based Entrada, Inc., where he was last year's top revenue producer in his product line for the company. Prior to joining Entrada, he was a sales manager for Chicago-based Emedapps. He joined Emedapps from NextGen Healthcare, where he was an EHR sales and implementation consultant.
About i2i Population Health
A KLAS Leader in the delivery of actionable population health, i2i Population Health's' integrated Population Health Management and Analytics solutions have proudly served healthcare organizations for more than 16 years. The company offers a depth of experience gained from over 2,500 U.S. healthcare delivery sites across 35 states supporting 20 million lives. With i2i, healthcare providers optimize the clinical, financial and operational success of physician group practices, community health centers, health center controlled networks, hospitals, health plans and integrated delivery networks. i2i's flagship product, i2iTracks, is 2014 PCMH NCQA pre-validated to ignite real-time, proactive care management. i2i System's big-data platform, PopIQ, delivers a cloud-based comparative analytics toolset to leverage multiple customers' data sets and provide cross-population views into global population health management.
To learn more visit http://www.i2ipophealth.com