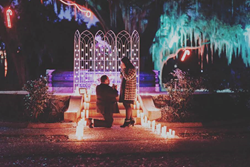 I enjoy spoiling my clients. I give them the confidence and peace of mind that their proposal will be unforgettable.
New Orleans, Louisiana (PRWEB) December 05, 2016
Project Proposal is gearing up to help clients plan picture-perfect wedding proposals this holiday season. The New Orleans-based company will be helping suitors propose by planning custom, memory-making moments for popping the question.
Stacey Asaro launched Project Proposal during summer 2015, and since that time, she has served clients from around the world. She has helped people from as far away as the United Kingdom come to New Orleans to create romantic, unforgettable proposals.
Asaro's parents owned a wedding reception facility, which gave her a firsthand look at what brides really want - as well as the passion to start her very own company. Now, Asaro helps suitors create the perfect proposal moment - and proposal story.
Project Proposal is now accepting clients for the 2016 holidays. More information can be found at http://projectproposalnola.com/.
About Project Proposal
Project Proposal works with clients to create perfect wedding proposals in New Orleans. Owner Stacey Asaro grew up seeing beautiful weddings unfold at her parents venue, Southern Oaks Plantation, and she's heard the good, the bad, and the ugly when it comes to wedding proposals. Now, she helps clients around the world personalize their engagement events within the captivating city of New Orleans.
Contact:
Stacey Asaro
Owner Project Proposal
Phone: 504-407-5937
E-mail: Staceya(at)projectproposalnola.com
Facebook.com/ProjectProposalNOLA
Website: http://projectproposalnola.com