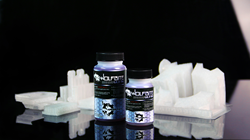 We developed Wolfbite ULTRA™, along with the new AXIOM 20 printer, in response to a surge of automotive customers asking us to help them 3D print in polypropylene. - Erick Wolf, Co-Founder/Airwolf 3D
Costa Mesa, CA (PRWEB) December 07, 2016
Airwolf 3D today announced Wolfbite ULTRA™, a premium solution specifically engineered to solve the problem of polypropylene parts warping because they fail to adhere to a 3D printer's build plate. Wolfbite ULTRA™ bonds polypropylene plastic parts to a build plate to allow printing without lifting and to enable smooth release of objects after printing. This new solution works well with heated beds on all types and brands of 3D printers utilizing glass printing surfaces.
Polypropylene is widely used for automotive and other industrial applications because it is extremely durable and cost effective. From carpets and bottles to automotive bumpers, chemical tanks, and limitless custom solutions, this type of plastic has such an extensive number of uses because it is incredibly chemically resistant while being almost completely waterproof.
While used in many products, polypropylene is notorious in the 3D printing community for being difficult to work with because of bed adhesion problems. Polypropylene parts have a high tendency to warp or even completely fail to stick to the print bed. As the manufacturer of the only desktop 3D printer in its price class to effectively print polypropylene, Airwolf 3D created Wolfbite ULTRA™ to meet the demands of customers who require the ability to print in the high-performance industrial material.
"Airwolf 3D is extremely fortunate to work with customers who are leaders and early adopters in their respective industries," stated Airwolf 3D Co-Founder and Lead Designer Erick Wolf. "When customers come to us with a problem, it gives us an opportunity to devise an innovative solution for them. We developed Wolfbite ULTRA™, along with the new AXIOM 20 printer, in response to a surge of automotive customers asking us to help them 3D print in polypropylene. It is exciting to be at the forefront of a technology that will meet the growing demands of the automotive, engineering, and other manufacturing industries as more and more professionals adopt 3D printing as part of their work flow."
Wolfbite ULTRA™ was developed at Airwolf 3D through a collaboration with Professor Miodrag "Mickey" Micic, Sc.D., Ph.D., M.T.M., department chairman at Cerritos College in Norwalk, CA, and renowned polymer chemist and additive manufacturing expert.
"Polypropylene, a completely saturated hydrocarbon macromolecule, is extremely difficult to bind and is virtually unreactive to anything," said Prof. Micic. "The new Wolfbite ULTRA™ is the first solution in the world to offer effective, reversible adhesion between the hydrophilic material of the printer bed, such as glass or borosillicate glass, and polypropylene parts. Furthermore, Wolfbite ULTRA™ is a water-based, "green" chemistry solution and an environmentally safe product."
As the first product of its kind, Wolfbite ULTRA™ empowers professionals to directly 3D print their parts in polypropylene. As Prof. Micic pointed out, "Many prototypes currently are 3D printed in ABS or PLA and are later transferred into manufacturing by injection molding polypropylene. For the first time, a user can rapid prototype a part from the same material used for the final product and have the ability to test its exact properties before moving into final mass production. Polypropylene is a clinically inert resin that will expand the effective use of 3D printers, especially for medical devices, process technologies, automotive, and chemical storage."
Wolfbite ULTRA™ Is packaged in a two-fluid-ounce container and comes with a foam brush applicator. It is currently available for sale on the Airwolf 3D website at an introductory price of $39.95.
About Airwolf 3D
Airwolf 3D is committed to designing, manufacturing and selling 3D printers, 3D Printing software, and 3D printing peripherals that are fast, affordable, durable and easy to use. Airwolf 3D has authorized dealers in more than 20 countries around the world. Airwolf 3D printers are delivered fully assembled and ready to print. All Airwolf 3D printers are made in America and manufactured in the company's 12,000 sq. ft. facility in Costa Mesa, California. Airwolf 3D printers can be found in Fortune 500 companies, engineering firms, government agencies and schools worldwide. If you would like to buy the best 3D printer in its class, visit http://www.airwolf3d.com or you can telephone (949) 478-2933, email info@airwolf3d.com, or visit the company's showroom at 130 McCormick, Suite 105, Costa Mesa, CA 92626 for a free demonstration