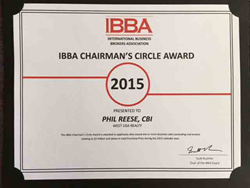 We applaud Phil on this well-deserved achievement, and are proud to have him as an IBBA member.
Scottsdale, Arizona (PRWEB) December 12, 2016
"Member Excellence Award winners represent some of the best in the business brokering profession, and we are pleased to recognize the accomplishments of these individuals," stated Scott Bushkie, 2016 Chair of the IBBA. "We applaud Phil on this well-deserved achievement, and are proud to have him as an IBBA member."
The Chairman's Circle Award was given to individuals who closed one or more business sales (excluding real estate) totaling to $3 million and above in total purchase price during the 2015 calendar year. Winners were given a signature graphic to use, a certificate of achievement and a Chairman's Circle commemorative lapel pin.
"We encourage those seeking to sell or buy a business to carefully select their transaction advisors," stated Kylene Golubski, Executive Director for the IBBA. "This award distinguishes Phil as a true professional who knows how to get deals done."
Phil is with the West USA Realty brokerage firm located in Scottsdale, AZ and can be reached by phone at (480) 707-7721, email at philreeseaz(at)gmail(dot)com or visit his website at http://philsellsbiz.com
The 2016 Member Excellence Award winners will be announced at the 2017 IBBA Annual Conference in Dallas, Texas on May 5th – 8th, to recognize IBBA members' accomplishments in calendar-year 2016.
ABOUT THE INTERNATIONAL BUSINESS BROKERS ASSOCIATION
The International Business Brokers Association (IBBA) is the largest international non-profit association operating exclusively for people and firms engaged in business brokerage and mergers and acquisitions. This association provides business brokers with education, conferences, professional designations, and networking opportunities. It awards the Certified Business Intermediary (CBI) certification as well as the courses and seminars required to obtain this certification. Formed in 1983, the IBBA has members across the world. For more information about the IBBA, visit the website at http://www.ibba.org/.