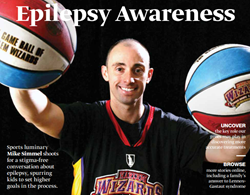 (PRWEB) December 05, 2016
"Epilepsy Awareness," which can be found at the American Epilepsy Society's 70th Annual Meeting through tomorrow, December 6th, sparks a conversation about epilepsy, bearing down on the social stigma and lack of public education surrounding seizures.
One in 26 people will be diagnosed with epilepsy within their lifetime. With such a large percentage of people affected, it's critically important that the public is educated on what epilepsy is, what seizures are, and the steps to take when someone is having a seizure.
According to The Anita Kaufman Association, a nonprofit organization dedicated to educating the public to not fear epilepsy and seizures, people can remember to use the word "brain" as a guide. B is for "be calm." R is for "remove" dangerous objects. A is for "always" timing the seizure. I is for "if" the person has fallen to put something soft under his or her head. And N is for "never" putting anything in the mouth. To explore more about epilepsy education, click here.
About Anita Kaufman
Anita's greatest desire was to educate the public about epilepsy and help eliminate the fear and stigma associated with epilepsy and brain trauma. The Foundation was established in 2004 at the direction of Anita, after she passed away. Together, we can educate the public not to fear epilepsy and seizures.
About Mediaplanet
Mediaplanet is the leading independent publisher of content-marketing campaigns covering a variety of topics and industries. We turn consumer interest into action by providing readers with motivational editorial, pairing it with relevant advertisers, and distributing it within top newspapers and online platforms around the world.